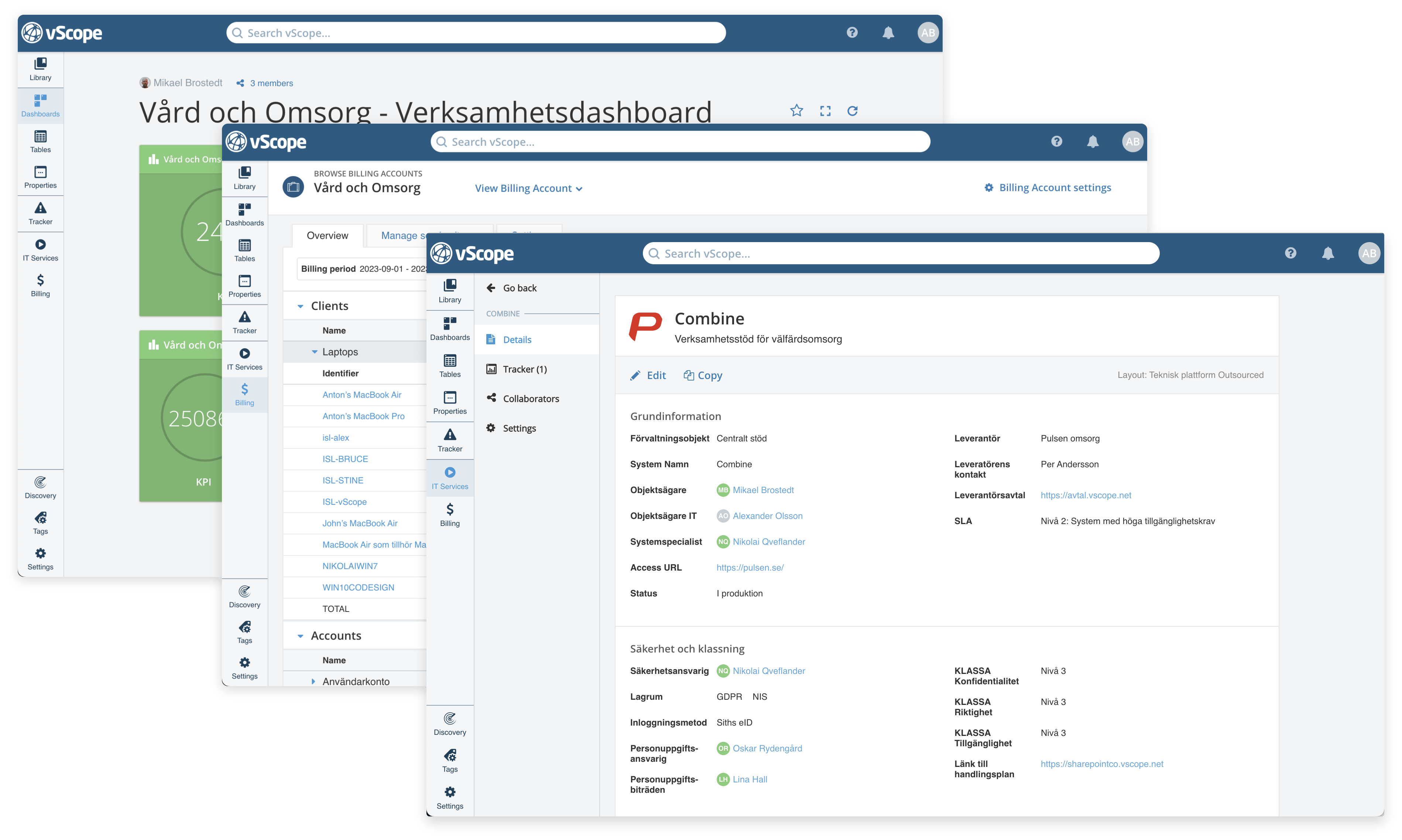 With vScope, you can easily gather and share insights across departments and roles, leading to a more efficient organization with reduced costs.
Some of our Customers…
We work with companies of all sizes, ranging from small local firms to global enterprises, that want to make IT visibility and collaboration a cornerstone of their IT operations.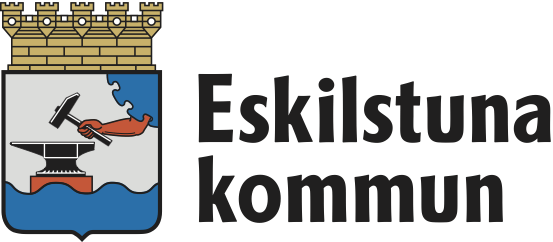 – With vScope, we gain a shared view of how things actually appear and change over time. We eliminate unnecessary time wasters by avoiding switching between tools, while ensuring that nothing slips through the cracks when we share knowledge.
THOMAS NILSSON
IT Manager, ETTIT
INVENtORY & DISCOVERY
Let vScope inventory your systems, platforms, and applications
vScope streamlines IT inventory into a smooth process and creates a shared platform where different roles can access up-to-date information. This boosts your staff's productivity and empowers you to enhance critical processes within your organization. From SLA, auditing, and ITAM to ITSM, SAM, and policy compliance – vScope has it all.
SERVICE CATALOG
Categorize IT assets into a service perspective
Place your IT resources in the context of IT services or systems. This provides you with comprehensive and self-updating service documentation for your entire organization. It simplifies collaborations between operations and individuals in other roles by bridging the business perspective with technical delivery.
ADMINISTRATION MODEL FOR PUBLIC SECTOR
Enhance collaboration around your administration model
Customize documentation, reports, and templates to align with your specific system administration model to adhere to rules, policies, and goals. vScope provides various roles within your organization with tailored insights into the delivery, whether it's ITIL, PM3, or any other model you use.
BILLING & CHARGEBACK
Allocate IT spend across your Organization
Enable transparency and cost awareness within the organization regarding IT assets that drive expenses. With vScope, you can easily create and distribute insights about software licenses, laptops, subscriptions, or service agreements to people within the business.
ANALYSES & IMPROVEMENTS
A ready-made library of analyses, reports, and improvements
Utilize vScope's pre-built content to step-by-step, day-by-day, enhance your IT delivery. The analyses in vScope assist you in continually identifying bottlenecks and potential misconfigurations in your IT environment, ensuring compliance with policies and regulations, for example.
SEND DATA ELSEWHERE
Inventory engine for your incident management or other systems
Reuse inventoried information in other systems. It helps you simplify and streamline processes such as incident management, troubleshooting, or change management. You can easily retrieve assets, services, licenses, or other data that you want to send to systems like Nilex, Effecte, or ServiceNow, for instance.
vSCOPE IN YOUR ROLE
Let everyone take advantage of the opportunities with vScope
Examples of how vScope helps in Management & Leadership:
Strategic Planning: Use insights from vScope to support strategic planning and decision-making in IT and digitalization.
Cost Control: Reduce unnecessary IT expenses by optimizing resource allocation and systematically tracking expenditures.
Budgeting: Plan and monitor your budget work with access to both current and historical information about your IT environment.
Trust & Security: Increase trust among both internal and external stakeholders by demonstrating high reliability and regulatory compliance.
Decision Support: Use up-to-date information in vScope as a basis for making informed decisions and prioritizing projects and resource allocation.
Compliance: Ensure that your IT delivery adheres to industry standards, policies, and regulations.
Improved Work Environment: Create a more structured and efficient work environment for the IT department, which can enhance job satisfaction and productivity.
Examples of how vScope help you within Operations & Technology:
Improved Collaboration: Facilitate smooth collaboration between operations, support, and other departments by providing a common source of information that is not dependent on expertise within the operations department.
Efficient Incident Management: Faster identification and handling of incidents and issues in the operational environment, reducing downtime and service interruptions.
Automation: The ability to automate common controls and routines within operations, freeing up time and resources for more critical tasks.
Proactivity: Use vScope to identify potential issues before they impact users, reducing the risk of disruptions.
Faster Recovery: With updated IT documentation, the ability to restore systems and services after incidents or disruptions is improved, minimizing the impact on users.
Patch Management: By having an overview of current versions and available updates, you can keep systems and software up-to-date and secure.
Capacity Planning: Use data from vScope to optimize resource utilization and avoid bottlenecks or infrastructure overuse.
Increased Security: Use vScope to identify security threats and vulnerabilities to minimize risks and take preventive actions.
Better Quality: Enhance the quality of IT operations by maintaining continuous oversight and knowledge of system status and performance.
Examples of how vScope helps in Support & Service:
Faster Problem Identification: Gain quick and detailed insights into the IT environment to identify and diagnose issues and user queries more efficiently.
Efficient Incident Management: Streamline the process of logging, prioritizing, and resolving incidents, resulting in faster resolution and response times for users.
Better User Support: Access current information about users' devices and applications, enabling more precise and customized support.
Increased Customer Satisfaction: By resolving issues more quickly and efficiently, you enhance user satisfaction with IT services.
Reduced Workload: Automate tasks that previously required manual effort, reducing the workload for support technicians and freeing up time for more complex cases.
Collaboration with Operations: Collaborate effectively with the operations department to quickly identify and resolve issues that may impact user experience.
Improved Tracking: Monitor incidents and support requests closely and ensure they are resolved on time and by established SLAs.
Efficient Case Management: Streamline the handling of cases and support requests by having all relevant information readily accessible just a search away.
Integrations: Reuse vScope's data directly in your case management system to enhance the independence of your support team.
Examples of how vScope helps in Delivery:
Better Overview: Create a structured and uniform overview of all services and assets.
Improved Collaboration: Facilitate seamless collaboration between delivery, operations, support, and business units by providing a common source of information.
Increased Visibility: Gain a deeper understanding of the organization's resources and processes with access to up-to-date documentation.
Cost Basis: Automate the generation of billing, internal invoicing, and budget documentation.
Security Work: Ensure that assets adhere to policies, regulations, and security classifications to reduce the risk of incidents.
Lifecycle Management: Simplify the processes for managing the lifecycle of IT resources with the help of analyses, reports, and monitoring.
License Management: Enhance collaboration between the business and suppliers by gaining better control over software licenses.
Reporting: Generate reports and analyses based on current information to support collaboration with business units.
Responsibility & Control: Document responsibilities for and control over the lifecycles and changes of assets to ensure they meet the organization's needs and goals.
Examples of how vScope helps in your business and organization:
Clearer Communication: Obtain a clear and structured overview of your IT services and resources, facilitating communication with the IT department.
Better Planning: Increased transparency enables planning and monitoring of your actual IT usage.
Efficient Resource Allocation: By having insight into the availability and utilization of IT resources, users can better plan and allocate resources as needed.
Cost Control: Insight and understanding of your actual IT cost allow you to quickly compare against the budget and achieve better cost control.
Improved Decision-Making: Based on vScope data, you can make more informed decisions about IT resource utilization and project planning for your business.
That's why today, close to
one-third of Sweden's municipalities

chooses vScope as their IT inventory solution.
– Our teams can now collaborate more easily while being self-sufficient in retrieving information, reports, and IT documentation.
JOHN PALMQVIST, IT MANAGER, HÄSSLEHOLMS KOMMUN
We are with you!
Våra experter hjälper dig att lyckas utefter dina unika förutsättningar och behov.
Unlimited Users
We want as many people as possible to benefit from vScope in their roles!
Flexible Pricing Model
Subscription service with no upfront costs. Customized pricing based on your organization and size.
Security
vScope is installed in your data center. Information about your IT environments remains in your control.
Subscribe to our Newsletter
Let us keep you posted on product updates, news, and market insights that help you build a more productive organization.