IT INVENTORY FOR MSP & Hosting
Unlock Your Full Potential with IT Inventory for MSP & Hosting
vScope is asset management for forward-thinking MSPs and Hosting companies seeking a smarter and more efficient way to deliver IT. From SLA tracking and proactive maintenance to billing, compliance, and reporting – vScope has you covered.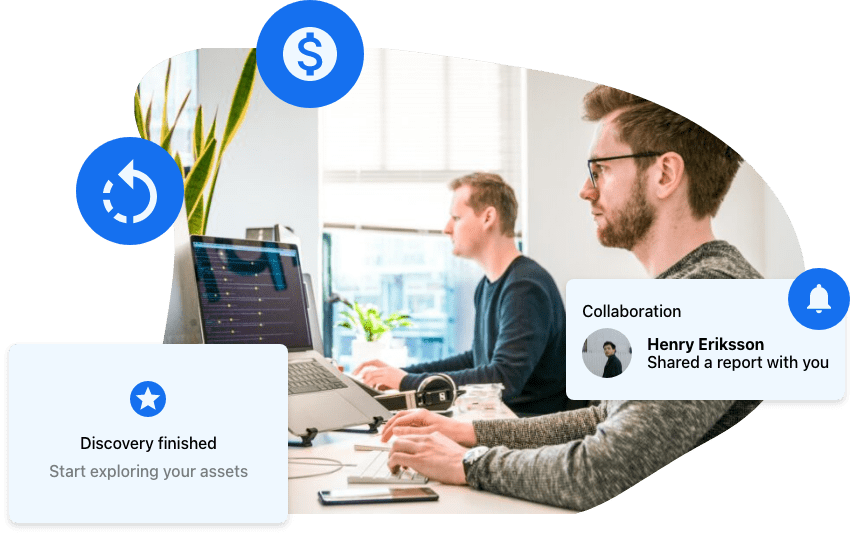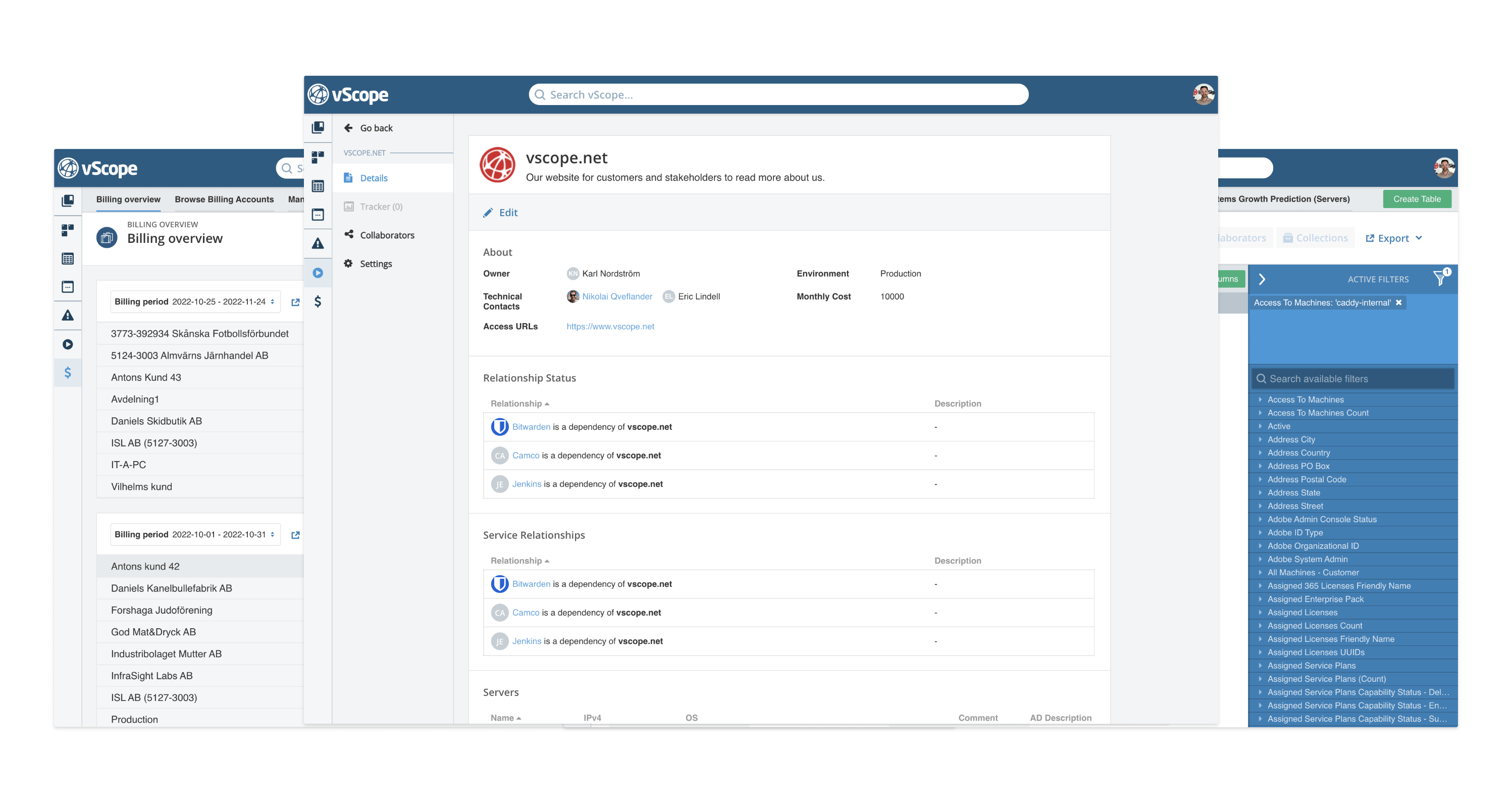 – Having all information about our, and our customers' systems readily available in one tool is both powerful and highly valuable. We've automated numerous manual routines and have increased both the quality of our service delivery and operations!
Emil Andersson
Customer Executive, Shibuya
IT INVENTORY FOR MSP & HOSTING
Let vScope inventory your systems, platforms, and applications.
Gather all your IT assets and your customers' IT assets in vScope through agentless inventory and discovery. The result is a comprehensive view of your and your customers' IT environment, assisting you with everything from SLA tracking and configuration checks to billing and customer reporting.
CUSTOMER-SPECIFIC IT DOCUMENTATION
Categorize IT assets from a customer perspective
Place your IT assets within the context of the customer, service, or system. This way, you create a comprehensive and self-updating CMDB for your entire operation that will help your team understand the purpose of your resources.
COST BASIS FOR INVOICING
Accurate cost basis for your customers – whenever you need it!
Create price lists and let vScope automatically calculate the cost basis for your IT delivery. Perfect for use in invoicing or cost reports for your customers.
VSCOPE IN YOUR ROLE
vScope in Your Role in a MSP & Hosting Business
Complete mapping of your operational environment. From a full overview to technical details.
All customers' IT environments inventoried, filtered, and consolidated in one place.
Ready-made documentation and reports. Easy to customize according to your needs.
A unified tool for operations, support, delivery, and sales.
Pre-made analyses and improvement suggestions help you enhance the quality of your IT service delivery.
REST API for leveraging inventoried data in other systems or tools.
Visualize the IT environment from a customer or service perspective.
Generate customer-specific reports on the content of your IT service delivery.
Generate cost basis and share it with your customers.
Follow-up on projects, processes, and/or key performance indicators (KPIs).
Search freely through your customers' IT environments in one tool.
No need to log in to multiple portals.
Quick access to, for example, accounts, computers, or phones enhances your support.
A digital colleague that helps you identify and prioritize improvements and proactive support.
A shared interface with the rest of the organization.
Integrate vScope with your incident management system.
A common tool for operations, support, sales, and delivery.
Enhance collaboration with your customers through increased autonomy and access to information.
Share and schedule reports, lists, and Excel sheets directly with customers.
Perfect for monthly tracking of history, changes, and trends in the customer's environment.
CHANGES
History and Changes for Easier Follow Up on SLA
Gain full insight into all the changes occurring in your and your customers' IT environments. Everything from new assets, altered configurations, and trends over time – All within vScope!
ANALYSES & COMPLIANCE
A Ready-Made Library of Analyses, Reports, and Enhancements
Utilize vScope's pre-existing content to, step-by-step, day-by-day, enhance your IT service delivery to your customers. vScope's analyses assist you in continually identifying bottlenecks and potential misconfigurations in your customers' IT environments.
API
Complete Freedom with Unrestricted Access to REST API
Expose limited portions of your vScope data to customers via API. You can also create your own connections to or from vScope to extract maximum value tailored to your needs.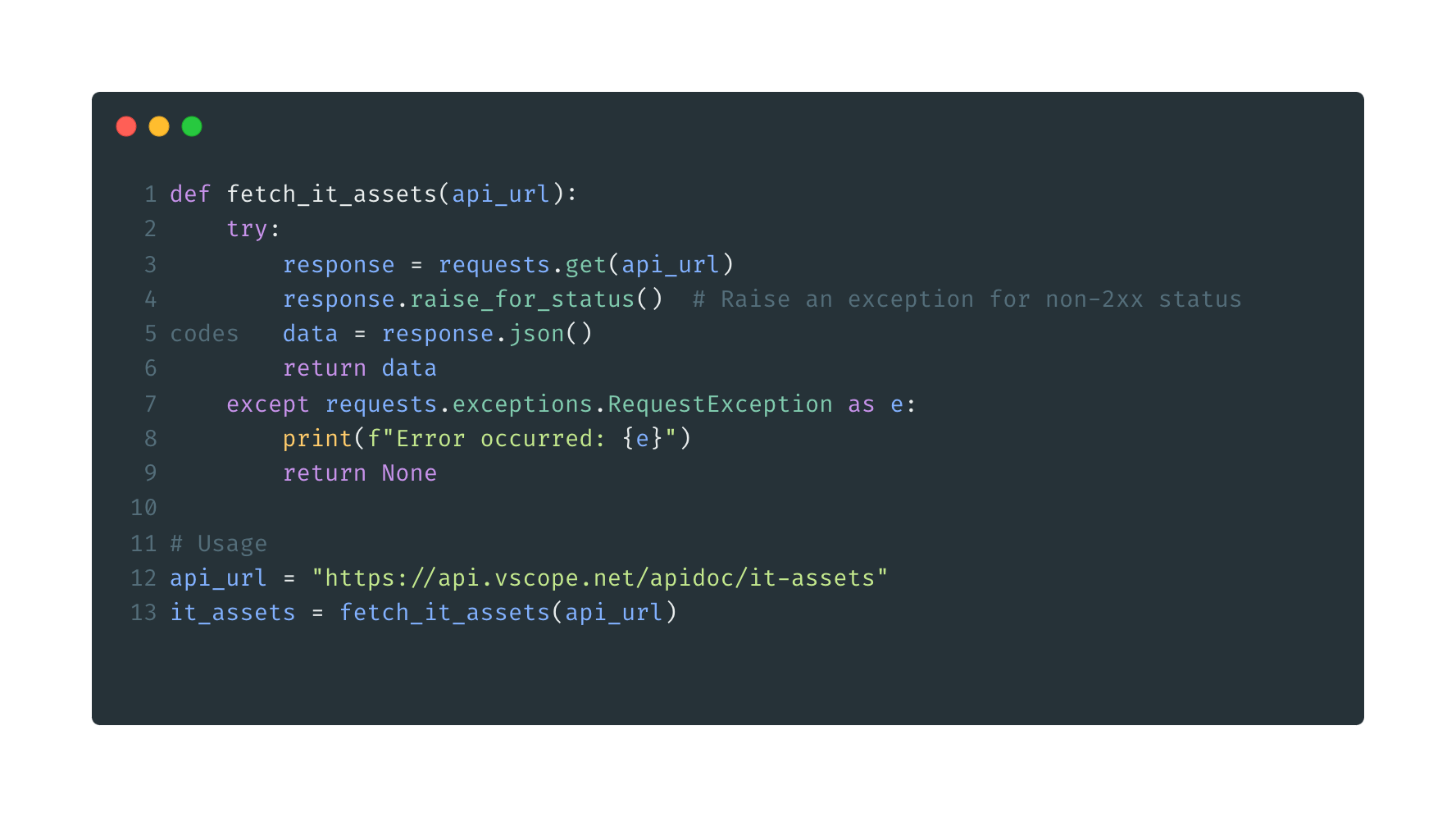 Subscribe to our Newsletter
Let us keep you posted on product updates, news, and market insights that help you build a more productive organization.