Empower your journey towards continuous improvement in a rapidly evolving digital world. Let vScope act as the central hub, facilitating enhanced collaborations in digitalization, reporting, security, and beyond, to elevate your operational excellence.
FEATURES
Gain a

unified perspective

of your IT environment
Support collaboration across teams and functions and drive positive change within important processes such as asset management, security, licensing, patch management, and more…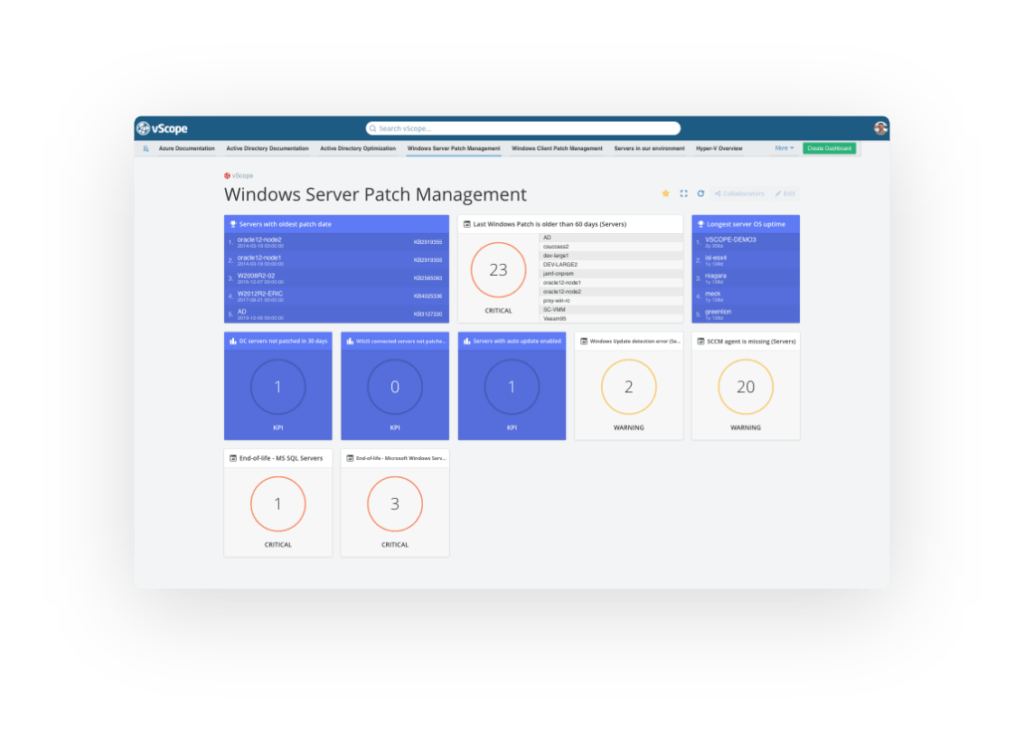 Visualize how your IT environment and operations deliver in areas such as security, licensing, patching, and application. Reports out-of-the-box, help you quickly start driving improvements.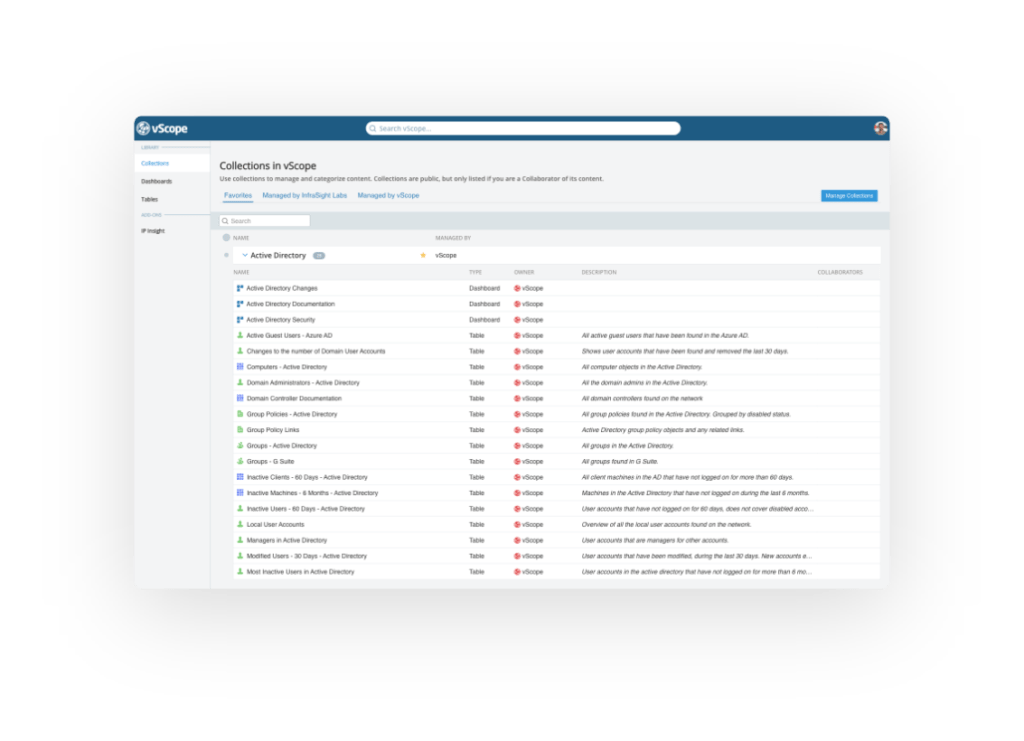 With vScope's ready-made report library, you will instantly get started with gaining insight and understanding of the various parts of the IT environment. You easily mark as favorites what is important to you, or customize the reports to your need. vScope's analytics help you proactively identify configurations and trends that may impact your business' IT delivery.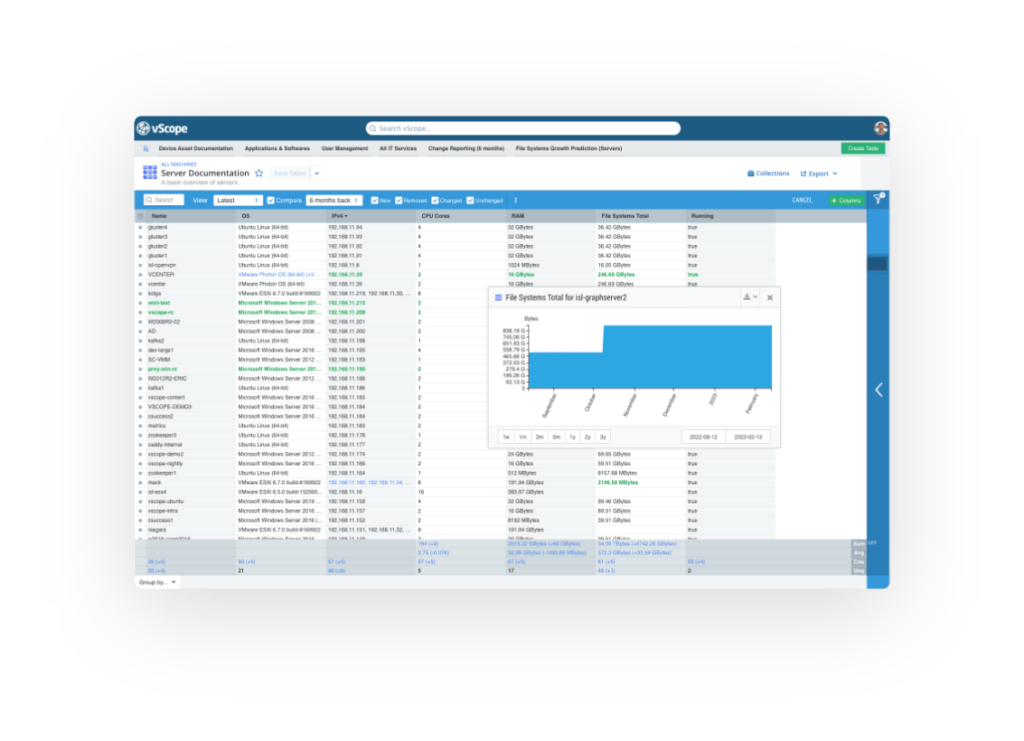 Full historical traceability makes it easy to compare changes over time. Perfect for weekly meetings, monthly follow-ups, or troubleshooting your operations!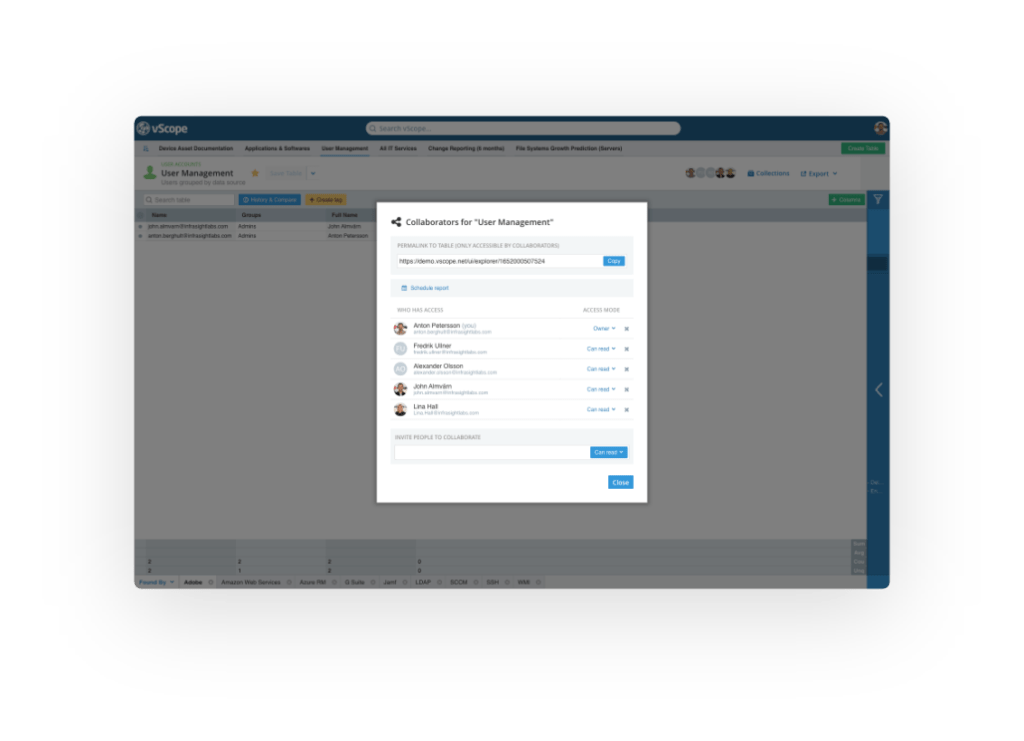 Drive engagement and develop your business with better reporting. Share information freely within, or outside, of your IT department. vScope is as much a tool for IT operations as for the business and service owners.
IT inventory for companies with collaborative ambitions
We work with companies in any industry, ranging from small to enterprise, that wants to make collaboration and information sharing across the organization easy, enjoyable, and effortless.
Top-rated

by our customers.


This is what they say…
Easy to set up Multiple Data Sources (On-prem, Cloud, AD, VMs, Physical machines etc) Easily integrated with AD Good overview Out of the box Dashboards Customizable to fulfill all your needs Reporting Services Service Cards Great support and onboarding process.
Marko, Global IT Operations Manager
It's very fast, the possibilities with all available data is almost endless. The support is both very quick and they're overall very responsive to implementing new ideas and features.
Isak, IT Technician
It's easy to generate reports to collaborate with different parts of the organization. Reports that we did manually we can have updated daily and always have ready to share with management or other interested parties.
Michael, IT Manager
Why companies work with us and use vScope for
IT inventory

.
Instant, long-lasting values
Built-in IT reports bring instant value to your organization. Server documentation, IP plans, CMDB, user audits – at your fingertips, ready instantly.
We've got your back with free support
Our customer success team supports you all the way. From installation and introduction to consultation and education. With unlimited support, we ensure that all our customers make the most out of vScope.
Highly customizable platform
Extend the built-in content, data enrichment, and templates with custom-made rules, tags, and notations.
Designed with security in mind
vScope is installed and configured in your data center, giving you full control of who can access your data.
GET STARTED
What do you want to do?
Subscribe to our Newsletter
Let us keep you posted on product updates, news, and market insights that help you build a more productive organization.