Inventory laptops and servers from SCCM
vScope 3.8 introduces a new datasource to be used for laptop & server inventory: Microsoft SCCM
April 15, 2019
vScope 3.8.0
Introducing SCCM in vScope
If you are not well-versed with Microsoft SCCM you will be happy to hear that vScope 3.8 supports inventory of SCCM. SCCM extends Active Directory and Windows as the main data source for laptop and server information in vScope. Meaning that you will have more options to improve the coverage of your IT discovery.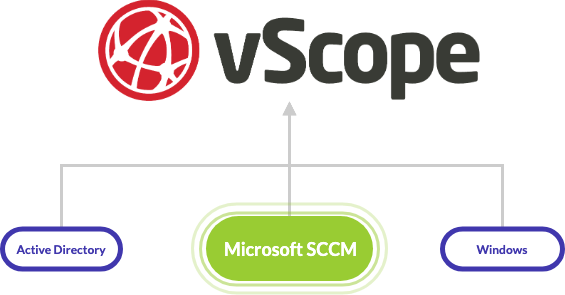 Build application reports
Use vScope to browse and follow-up on installed applications on laptops.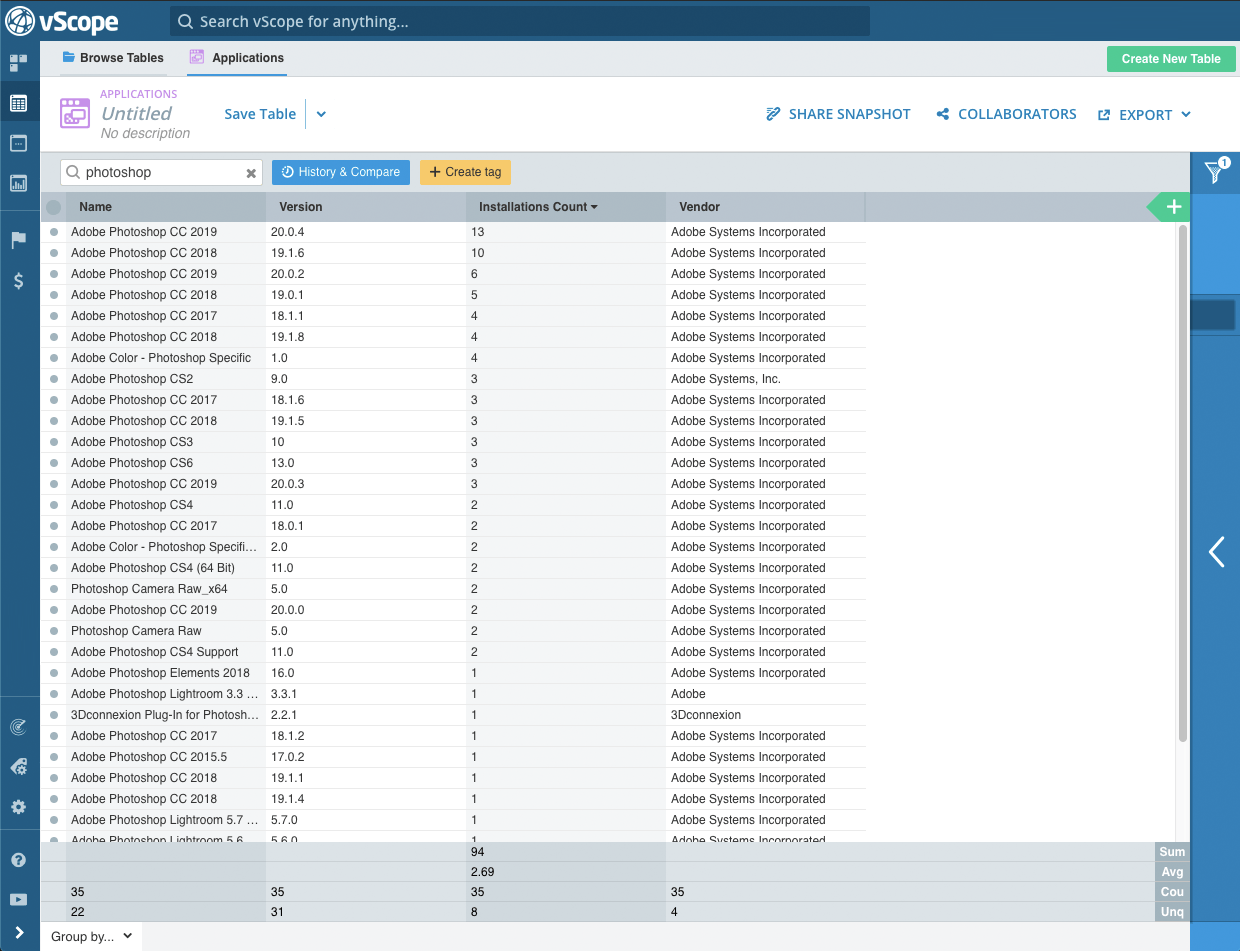 Overview Windows OS updates and patches
Have vScope send you weekly updates about patch status' of laptops.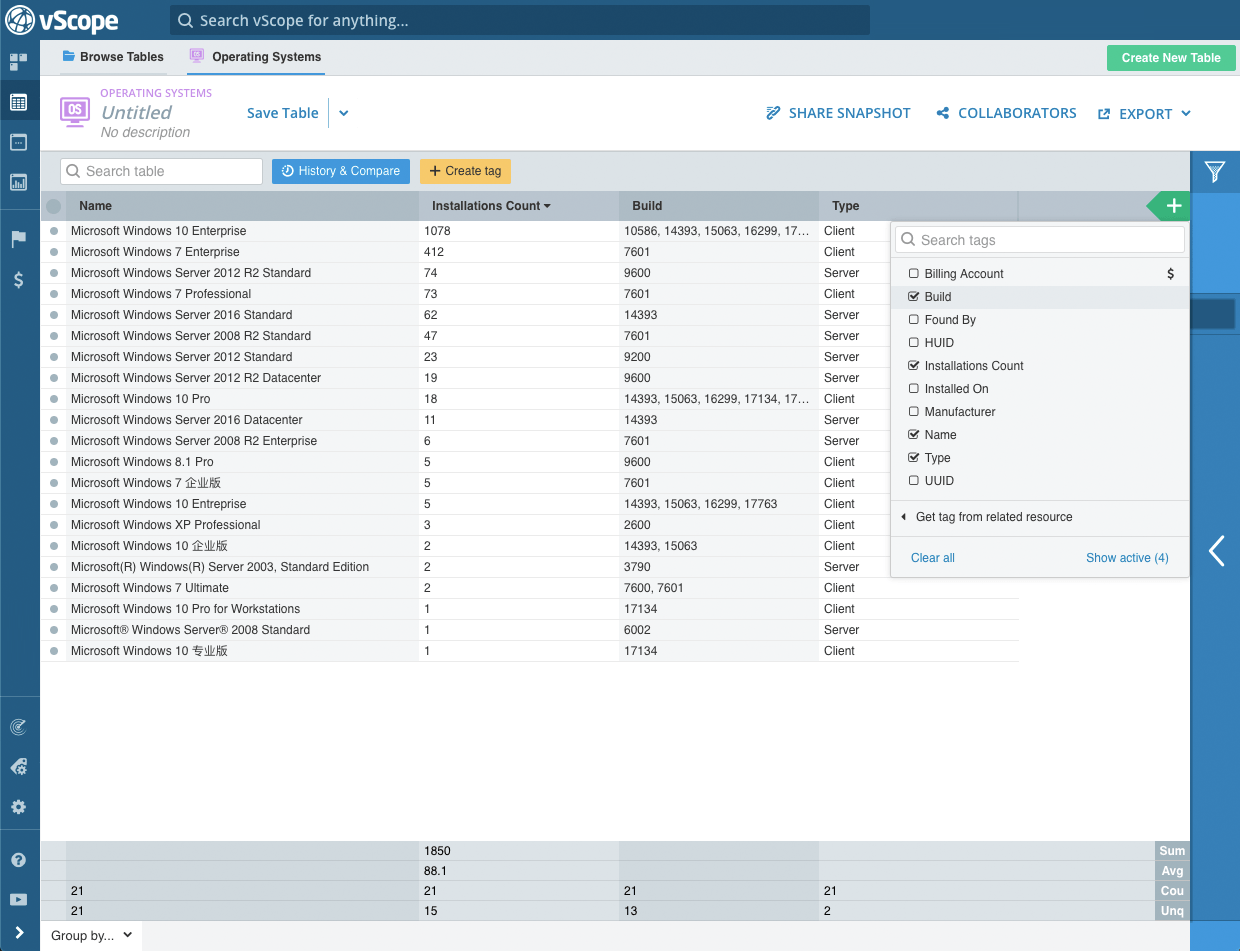 Track deployment status
Create a dashboard showing all deployments and their status.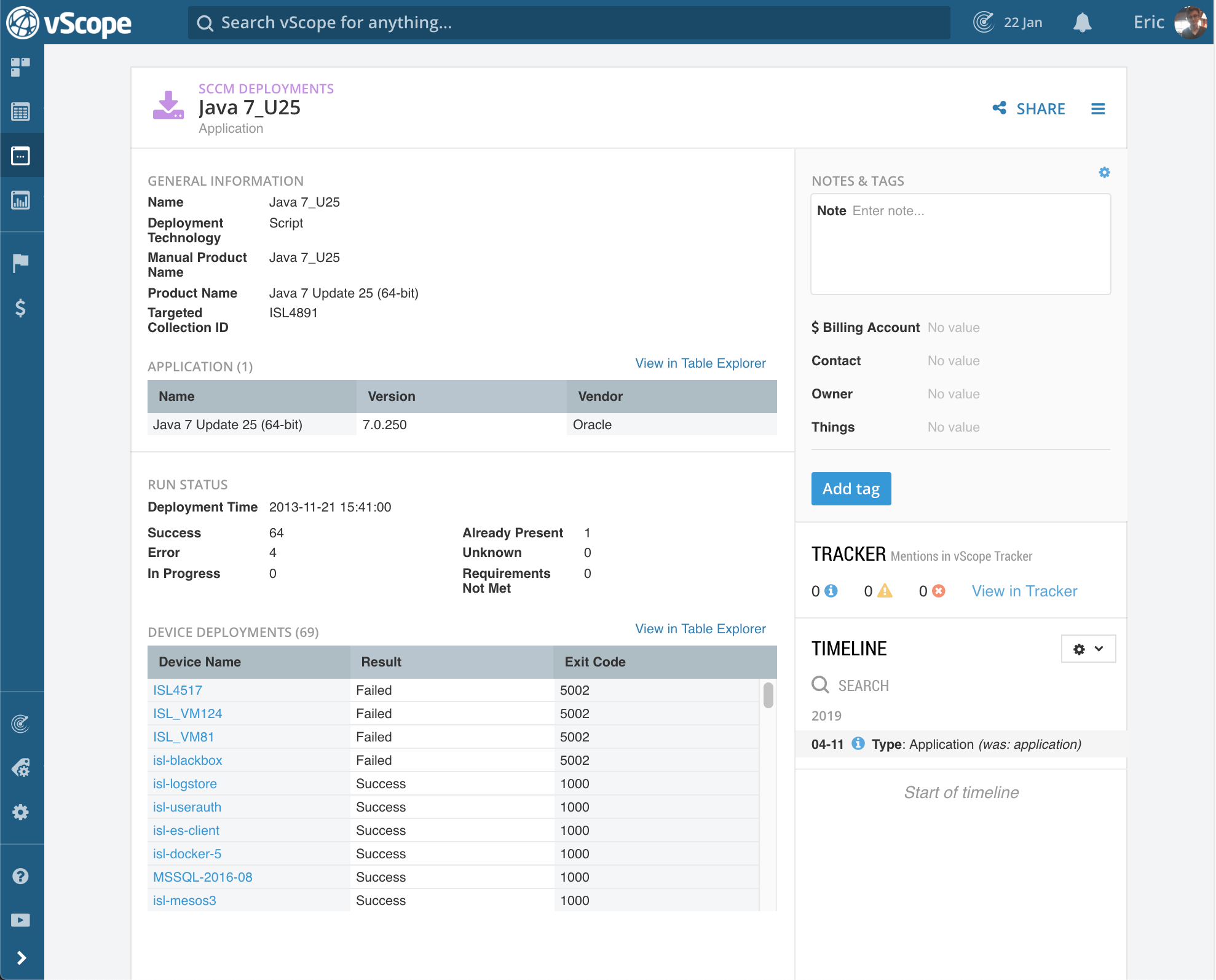 TRY IT OUT TODAY
If your organization have a subscription of either Server or Client you can add SCCM today. Contact us and we will help you out!
Bugs & Improvements
Added tag for organizational contact from Azure AD
Various improvements related to inventory of OKI printers
Performance optimizations related to license calculations
Testing a credential now supports tests via proxy
New Tag "Organizational Unit Name" for Directory Machines
Added various help texts in vScope
Hide browser autofill
Change proxy configurations from the lock page in vScope
Fix for broken external and internal links
Fix for OS version not updating properly for Linux servers
vScope 3.8.1
Bring VMware tags into vScope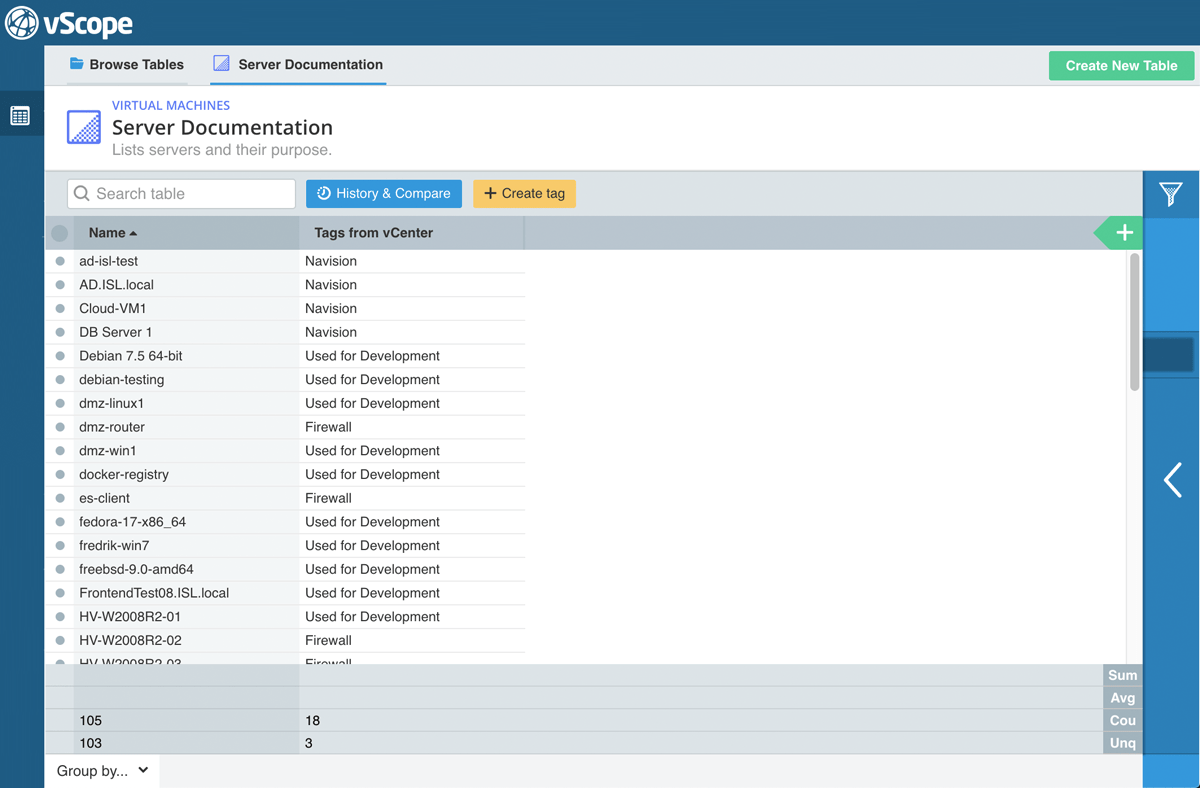 vScope 3.8.1 comes with support for VMware tags. This means that you will be able to reuse categorizations and notations from vCenter in vScope. To start using VMware tags you need to create them from Tag Manager.
Additional news
Add widgets directly from Tracker

Open up details for a Tracker case and you will be able to add a widget directly to any of your dashboards.
View certificate information in server properties

Viewing detailed information about certificates on server properties will help you faster identify any weaknesses.
Bugs & Improvement
Extended inventory of local group members
Enhanced performance related to inventory of file shares
Enhanced performance when browsing Discovery Manager related to history handling
Fix for slow Veeam Discovery
Discovery optimizations for clustered machines
Get tag from related resource now supports going from User Accounts -> O365 Service Plans
vScope users created from integrations now have their descriptions automatically populated from Active Directory
Various front-end improvements related to links and usability
vScope 3.8.2
View primary users for machines found from SCCM
Build reports about machines and their primary user and compare it to the user that was the latest user logging in to the machine. This information is also displayed in the Properties page for users and machines.

Additional news
Show SCCM collection names for machines – Both in Properties and in Table Explorer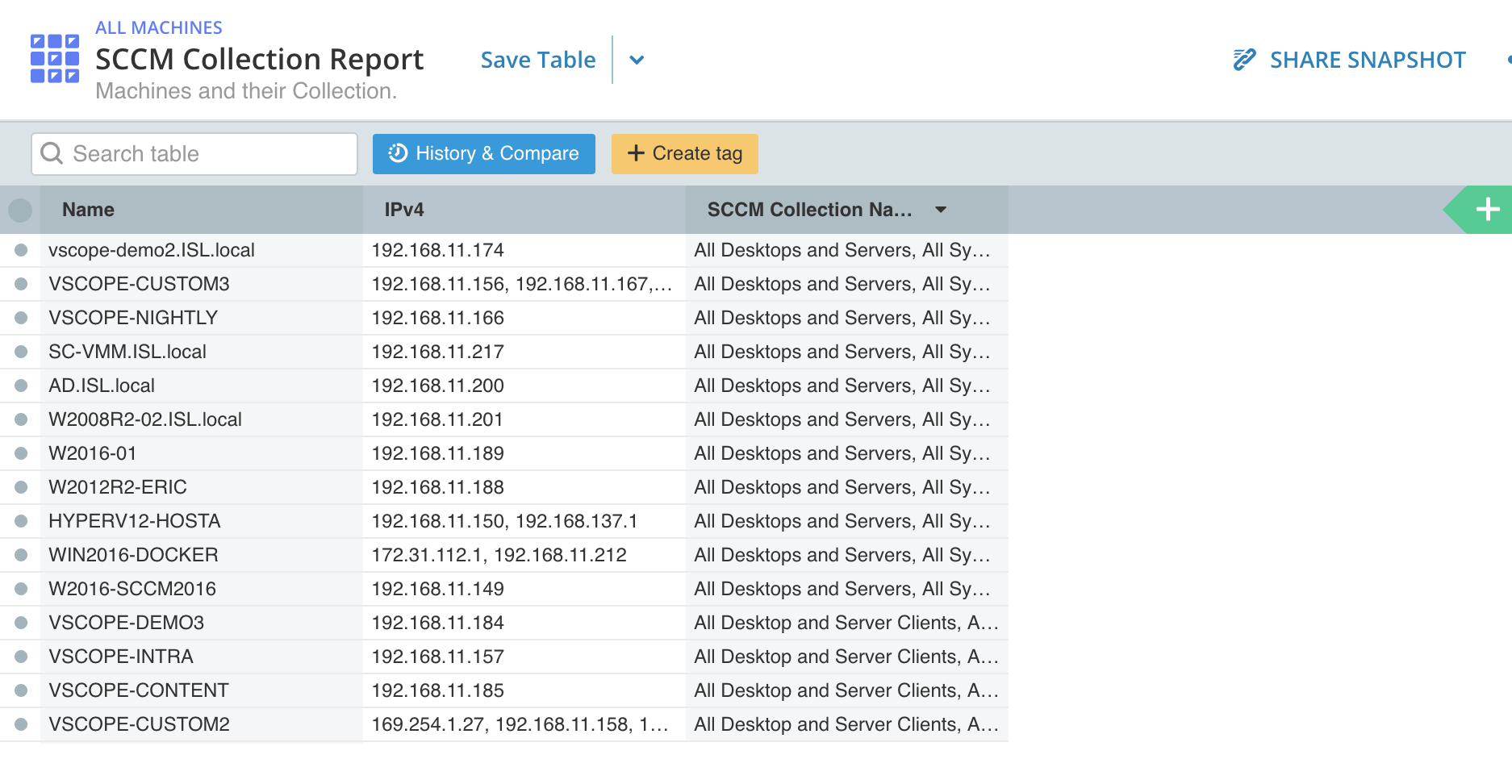 Delete Skip list entries and Discovery schedules in bulk

Bugs & Improvement
Updated Tracker case analysis for certificates
Updated Reports about Microsoft SQL backups
Added support for several Ricoh printer models
Enhanced performance in Discovery Manager when researching discovery logs
New tag showing "First Discovered" for printers, relevant for eg. integration projects
Last Patch date can now be inventoried via SCCM
Improved SCCM inventory performance
Added several hops to related resources from eg. All Machines to Jobs
Fix for not showing group members of local groups
vScope 3.8.3
vScope 3.8.3 was a fix release.
vScope 3.8.4
View last activity on vScope users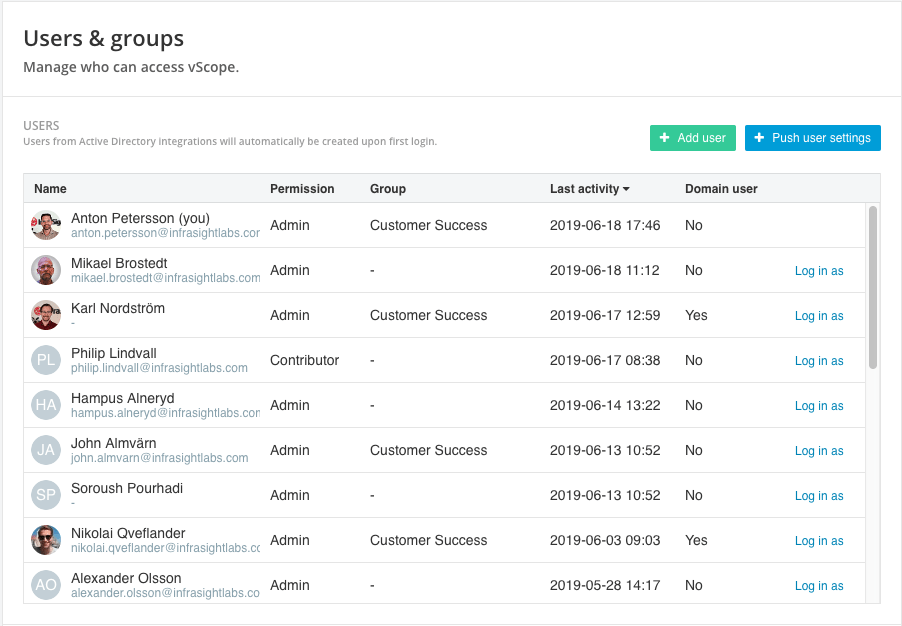 Create your own tags

By using FX when creating tags you can build your own eg. count or summarization tags.
Guest Access is discontinued
Guest Access has been disabled for a long time, but in older installation of vScope this feature has now been discontinued and disabled. This means that it will require login to access any information in vScope.
Bugs & Improvement
Exporting tabbed tabled only resulted in one single tab
Stitch issues related to certificate
User account lingered due to user found in File Share trustee
Various UI improvements
Fix for erroneous hexadecimal values from custom attributes in Active Directory
View all group members in local groups not found in AD
vScope 3.8.5
New Report Pack – Microsoft SQL Licensing

vScope 3.8.5 includes six new reports related to Microsoft SQL Licensing. The content is a shortcut to faster ensure compliance and optimize database license spend. The new MS SQL Licensing Dashboard gives you all the KPIs you need to speed up Microsoft SQL licensing and how you can improve coverage of the Microsoft SQL inventory.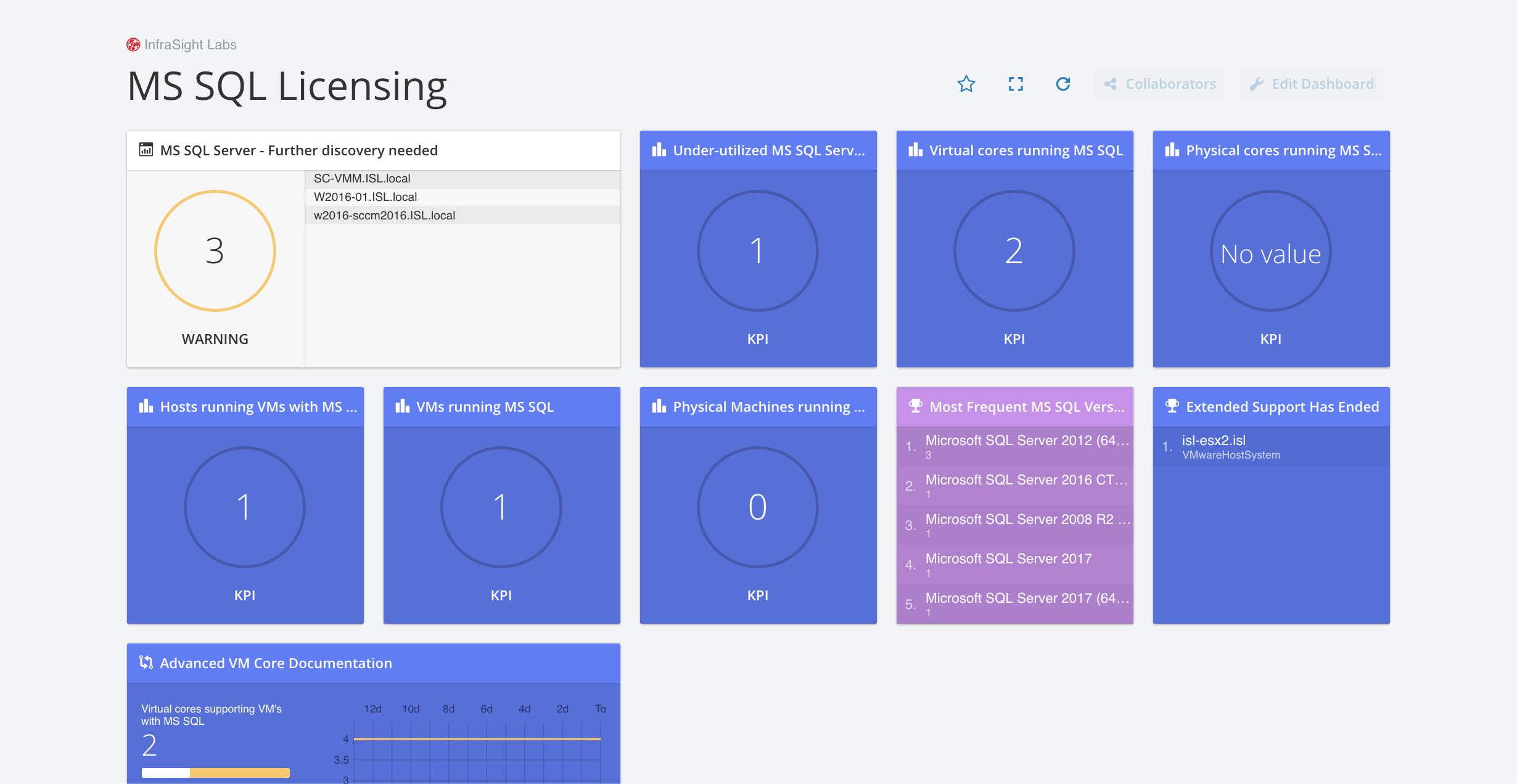 Read more about the Report Pack in our article about The basics of Microsoft SQL Licensing.
View discovery coverage in IP insight

IP insight is still in BETA but now colors the bars based on the success rate of the inventory. Blue means that vScope has successfully discovered the IP using one or several credentials, however only those dark blue are actual links to Properties pages. Red means that the IP was only discovered by Port Scan or Ping. This will probably require additional configurations in Discovery Manager.
Grouping of tags in Tag Manager for better overview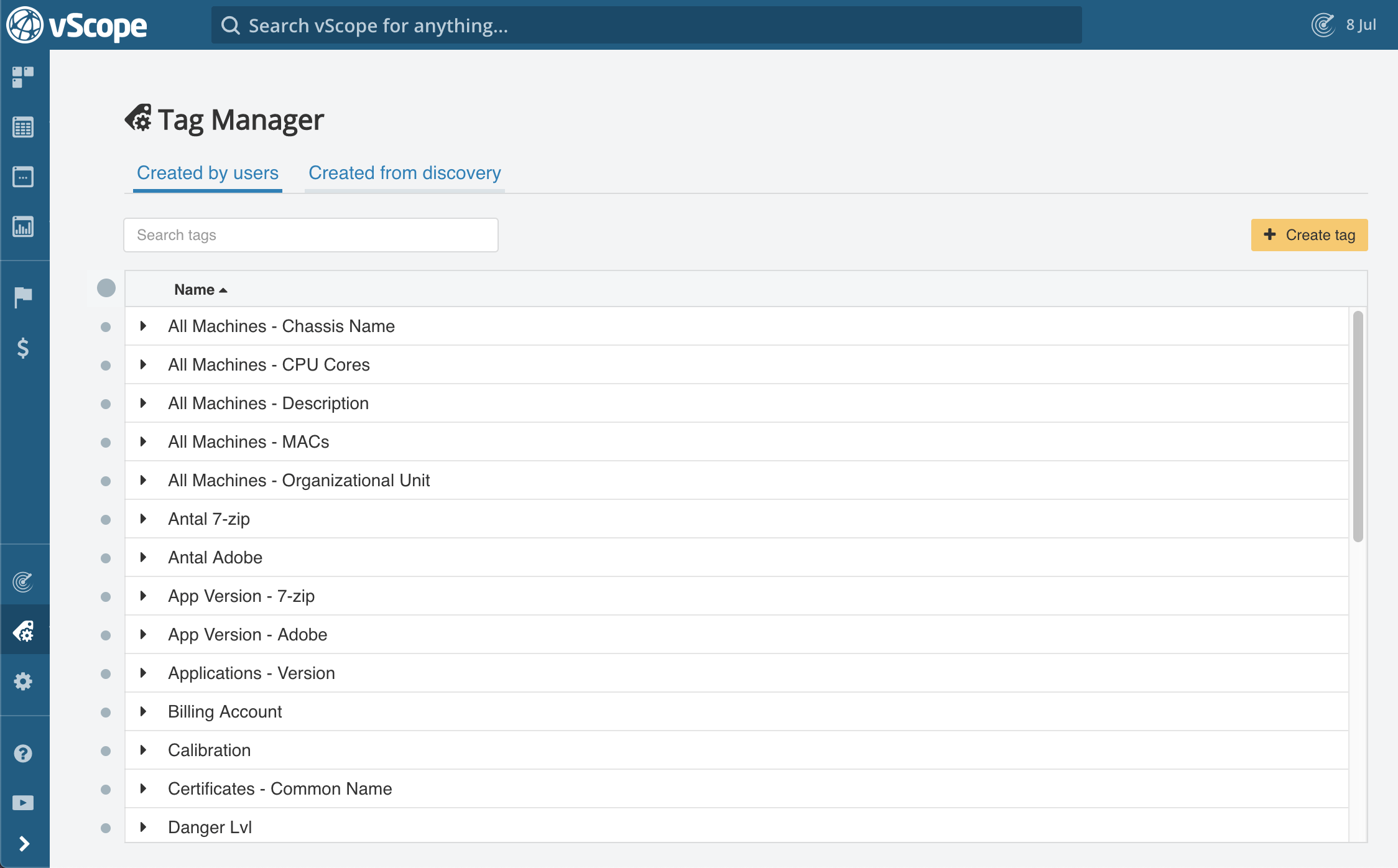 Tags are grouped based on name so that you can better overview the customizations of tagging in vScope.
Bugs & Improvement
Allow custom inventory of IIS and Certificate store. This setting can be managed from the Advanced option section for each WMI credential
View a certificate's relationships from Properties
Allow decimal entries when creating alerts in Tracker
Block browser autofill to avoid duplicate drop downs
Fix for Properties showing 'Undefined' as title for user accounts
vScope 3.8.6
New tags for recursive users and groups (Nested group membership)

The Tags "Groups Recursive Count" and "Users Recursive Count" represents the total number of group/user members of a group, including nestled elements. This helps you faster understand all memberships of a group. Relevant for eg. licensing or permission audits.
Bugs & Improvement
Various performance enhancements related to inventory
Fixes for discovery of SCCM, improving speed and stability
Support for fine grained password policies in Active Directory
On Properties page for Groups, related groups are now split in "Group Members" and "Groups"
Improvements in Omnisearch and the accuracy of the search results
vScope 3.8.7
Fix release for the previous version, vScope 3.8.6.
vScope 3.8.8
New report packs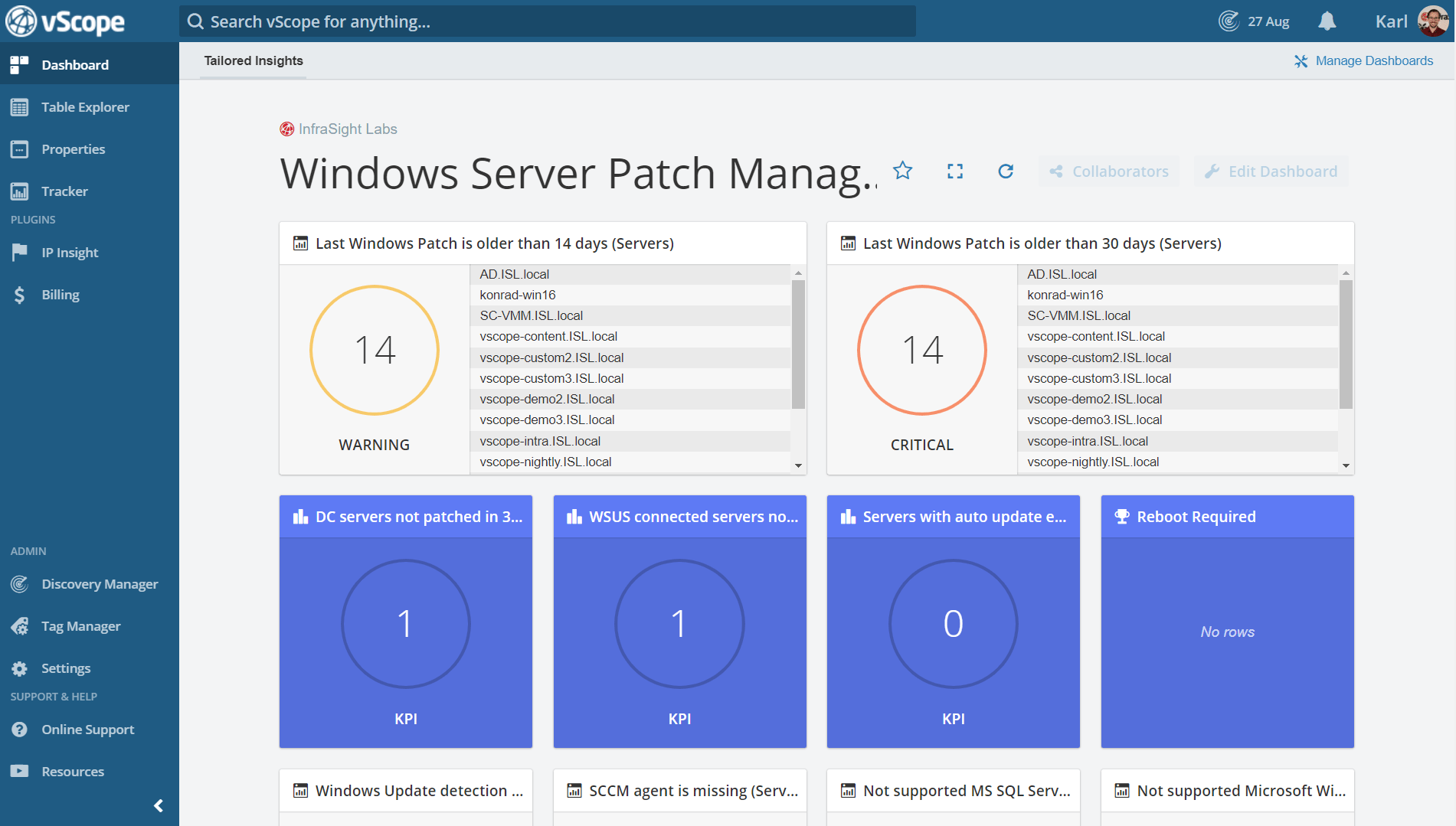 vScope 3.8.8 includes new report packs that comes bundled as dashboards in vScope:
Take a shortcut and view the out-of-the-box report packs in vScope.
Bugs & Improvements
vScope 3.8.8 also included minor bug fixes, tags and improvements.
vScope 3.8.9
Add custom discovery tags to Properties page
Did you know you can customize vScope's discovery?
Go into "Tag Manager" and add your customized tag from the vCenter or Active Directory.
Let one Discovery run after adding the customized tag. Now you can show this on Properties by navigating to Settings and select what tags to show on the Properties pages.

The tag is automatically populated on each component where the tag has been successfully inventoried.

New report packs in vScope 3.8.9
Bugs & Improvements
Improved Discovery performance related to slow SQL inventory
Minor fixes in emails when sharing content in vScope
Fix for duplicate administrators showing i Tracker case
vScope 3.8.10
New report packs in vScope 3.8.10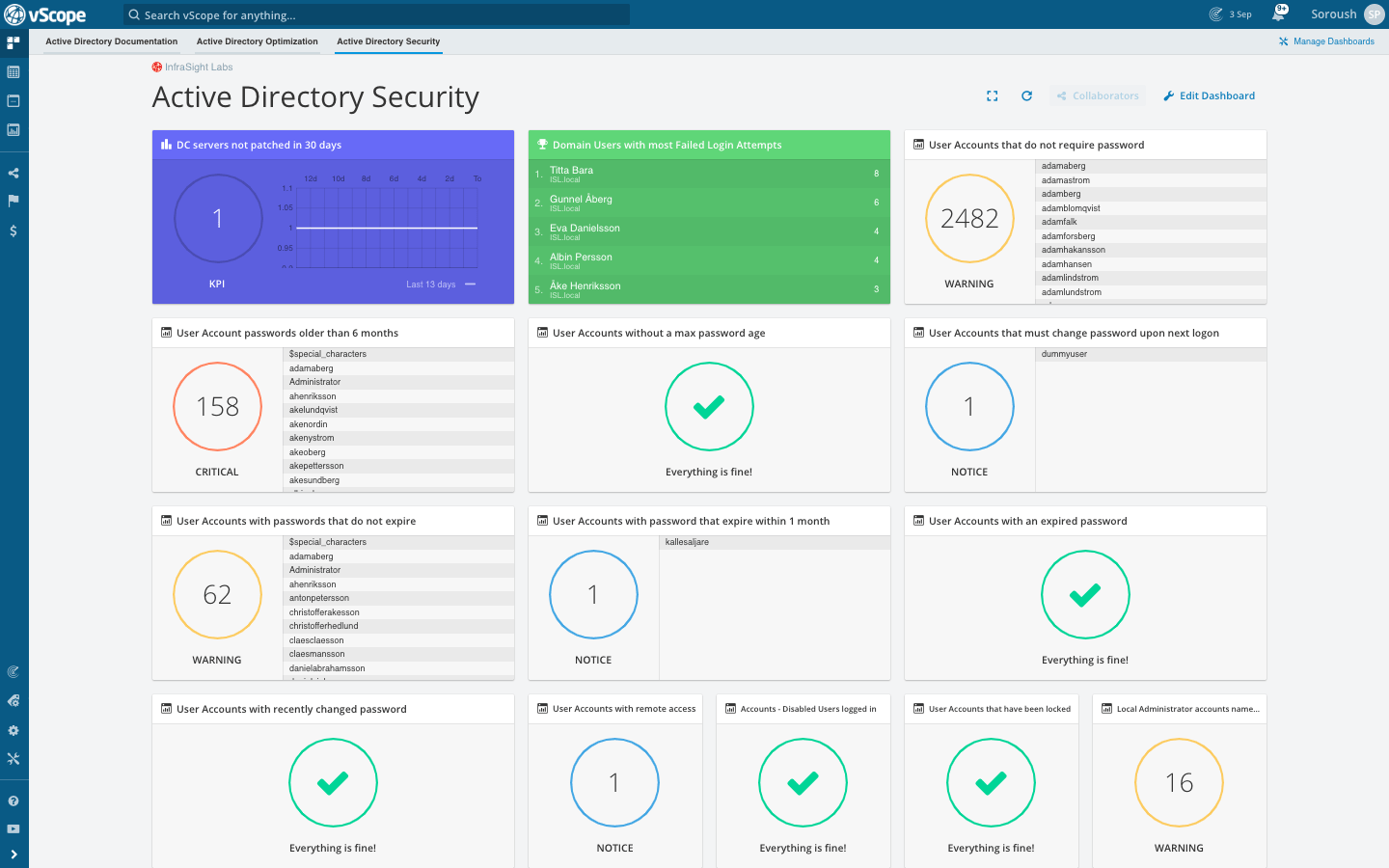 Bugs & Improvements
Search for Dashboards in the Omnisearch
Add Skip list targets via right-click in Table Explorer
Additional support for more 'Reboot pending' values for tag 'System Auto Update Reboot Required'
Include Owner name for each Dashboard
Bug fixes related to tags from depreciated datasources
vScope 3.8.11
Version 3.8.11 was a minor fix release.
vScope 3.8.12
Version 3.8.12 was a minor fix release.
vScope 3.8.13
Search for an IP address

Search for any IP address in vScope and find out what components that are using the IP.
Suggested improvements if email integration has failed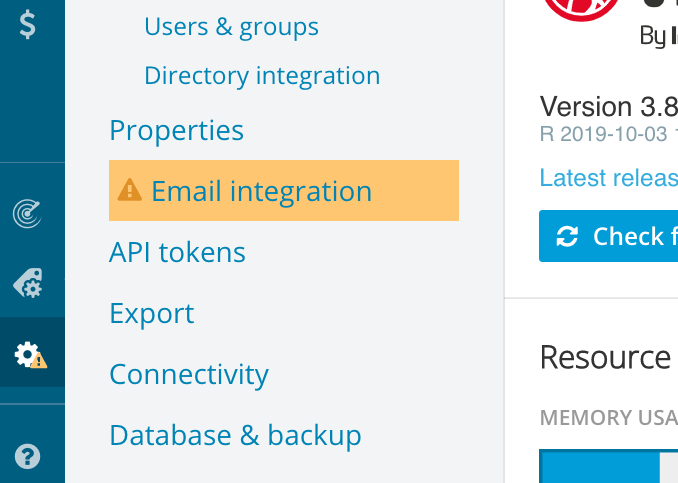 Using default email settings? From now on Administrators will get warnings whenever your email integrations have failed.
New report packs in vScope 3.8.13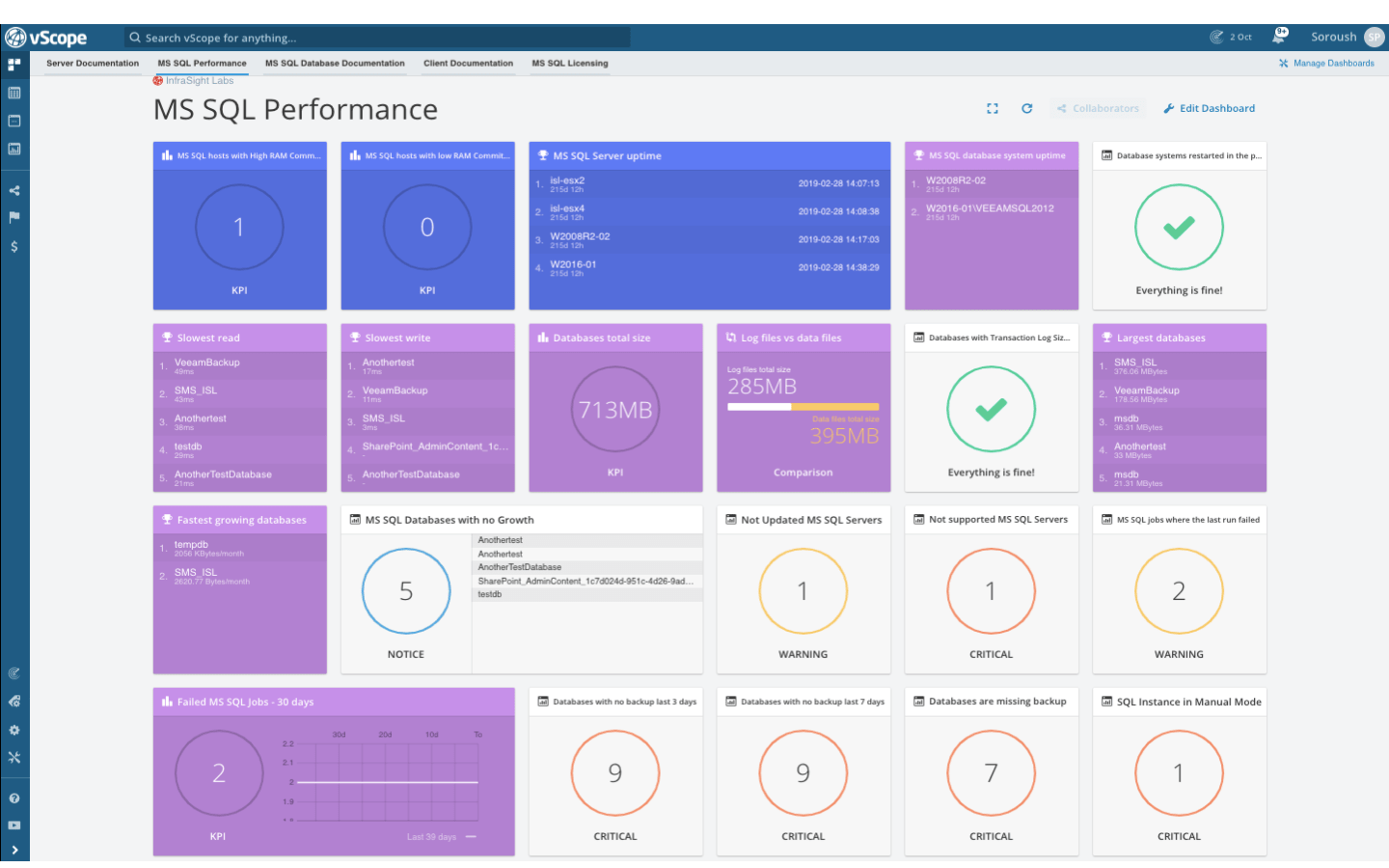 Bug fixes & Improvements
Server Name tag is split into Name & Domain
Veeam Backup jobs are now shown on Machine Properties page
Default user session expiry time is set to 7 days
Hide various tags from Timeline. eg. Time since… Expires in.
New tags related to Organizational Unit eg. Children OU Name, Parent OU Name
Performance improvements related to using vScope during discovery
Minor UI fixes (like increased line-height in OmniSearch)
Running a module trial will not trigger any "License is about to expire"-warning
Machines with Windows Embedded are now excluded from SCCM inventory
vScope 3.8.14
Version 3.8.14 was a minor fix release.
vScope 3.8.15
Inventory custom tags from Hyper-V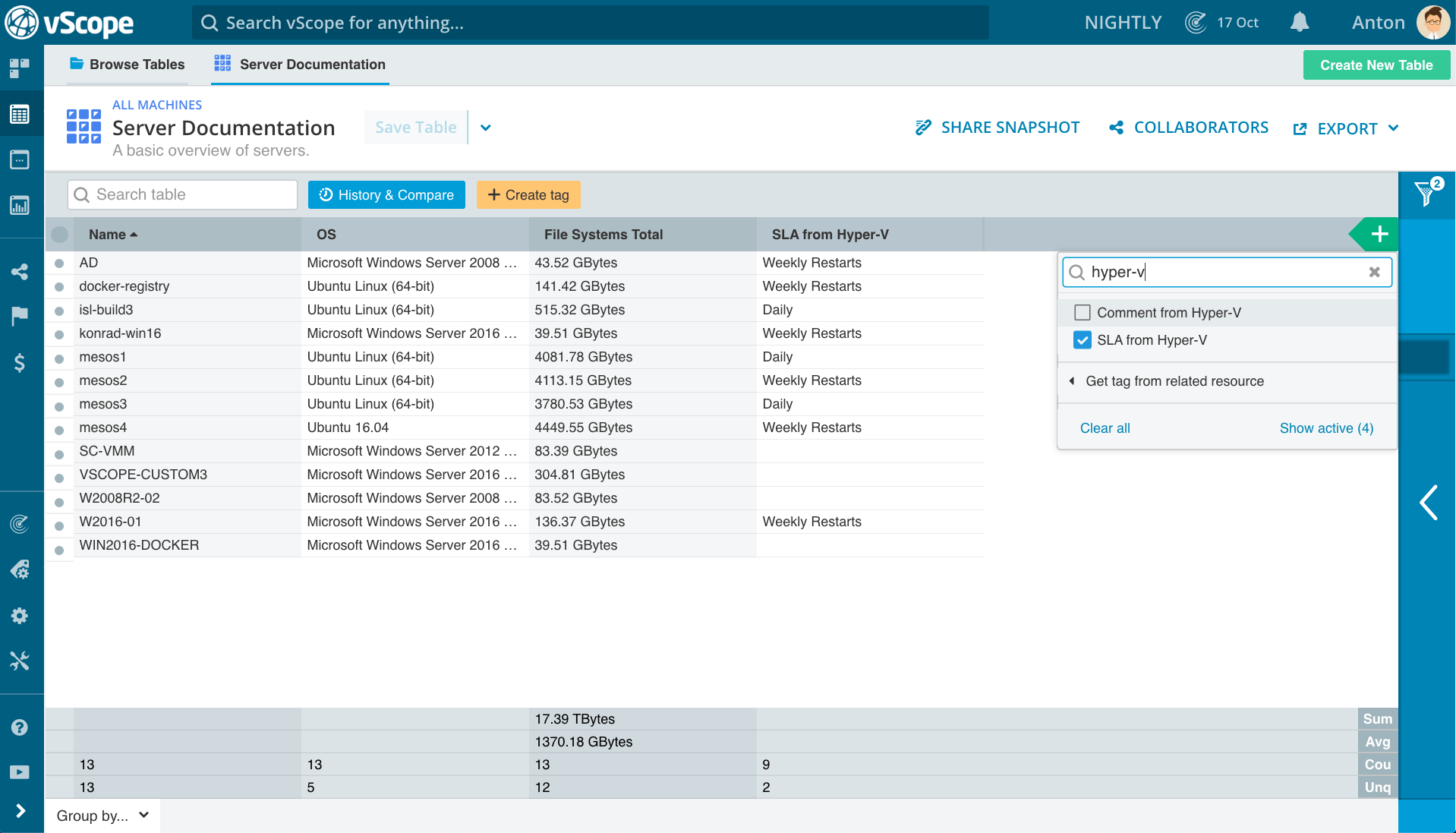 Reuse tags and notations from Hyper-V. Tags must be created from Tag Manager where you can customize name and format of the tag in vScope.
How to create custom tags from Discovery in vScope
Create dashboard via copy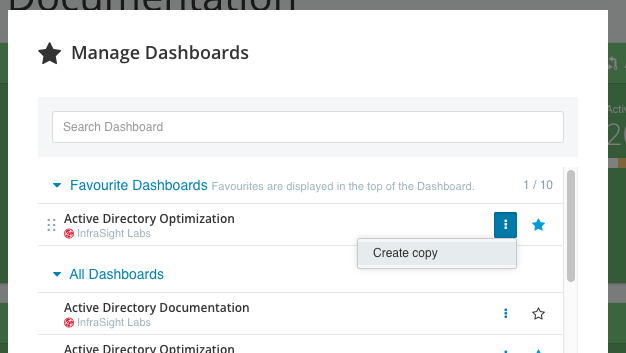 Create a copy of an existing dashboard and customize it to your needs.
New report packs in vScope 3.8.15
Bug fixes & Improvements
Improvements in SCCM for erroneous categorization of machines
Improvements in the AD authentication process for increased speed and reliability
Performance enhancements related to timeline and history comparison
Fixes within SNMP "Context engine ID must not be null"
UI fixes related to dropdown menus
Fixes for Veeam Backup size not showing in some cases
Fixes for inventory via Azure RM: "Duplicate instance ID for consumption data"
Performance enhancements related to license limit capping
Performance enhancements when filtering reports
Hide "Time Since" tags from Timeline in Properties