Better view of backup health,
configuration and data protection
vScope 3.3 introduces completely new information related to backup and also improves existing functionality. All to help you collect the information you need in one place.
New product – vScope Backup!

Introducing Veeam Backup in vScope, allowing organizations to keep their data safe by providing a better overview of all backup jobs including status, configurations, duration, options and much more. vScope aggregates all relevant information in one view and lets you build reports about backup without any prerequisites required. The neat thing with using vScope Backup is that you can connect backup information with all of your existing vScope data. This allows you for instance to trace information from VMs and databases to storage and backup.
Examples of use cases:
Automatically identify machines without backup
Find long running backup jobs
Get notified about failed backups
Veeam Backup snapshot still in VMware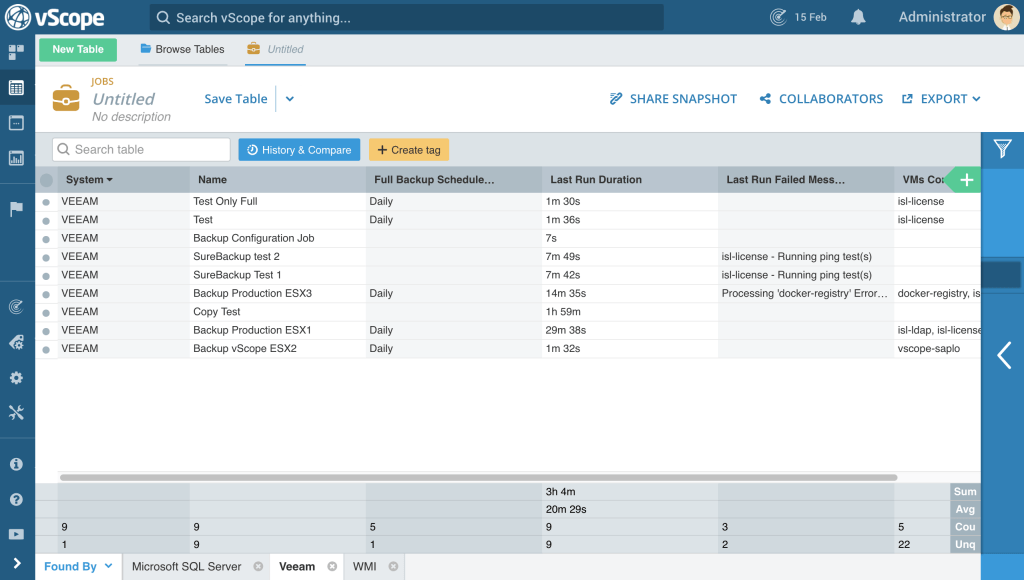 The information will of course also be available on the Properties page (notice that you have full historical traceability of every configuration):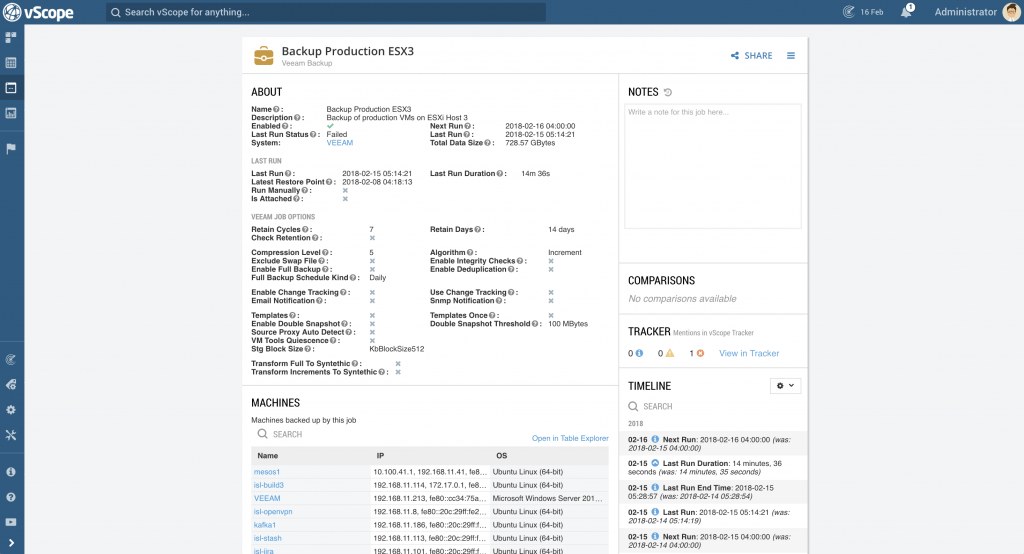 The functionality is licensed in the product vScope Backup and is available as a trial for any organization running vScope. Learn more about vScope Backup and get started at the vScope Backup – Product page.
Adding Properties page for User groups
One often requested feature, a properties page for user groups that makes it easy for you to overview settings and configurations, is here. Investigate group size, users, nested group settings, creation dates and much more from the page that is available in vScope 3.3.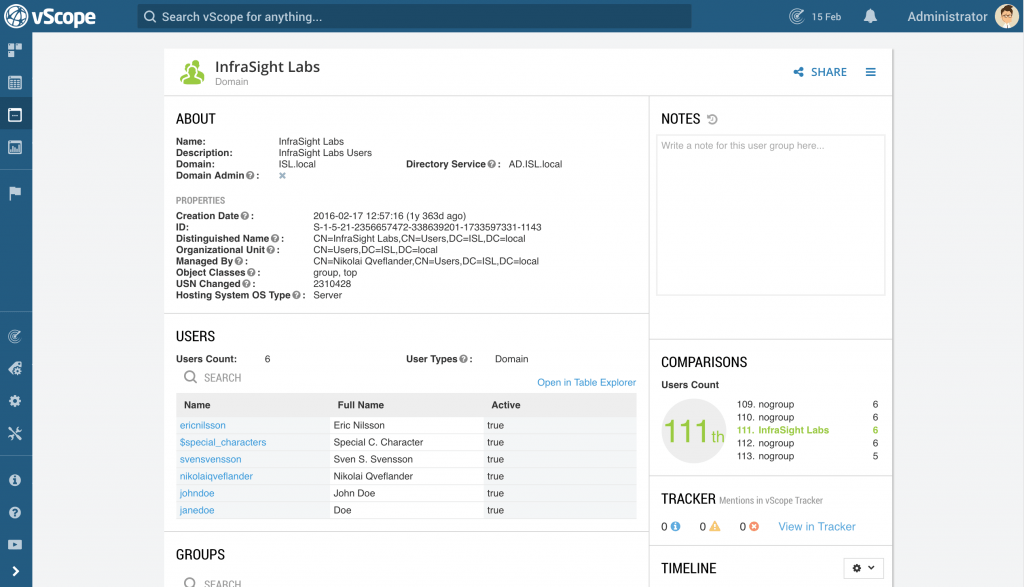 In order to view the User group page you a subscription of vScope Directory is required.
Additional news
Improved version filtering – Now supported for Operating systems and Applications
Filter all applications that has a version number lower than for instance 2.8.3 is tricky but very important when you need to build reports about eg. impact of applications vulnerabilities. vScope 3.3 includes smarter filter functionality that allows you to more easily build Tracker cases and analysis about applications and operating systems.
Below is a short how-to showing the steps to (in this case) filter every java application that has a version below 8.1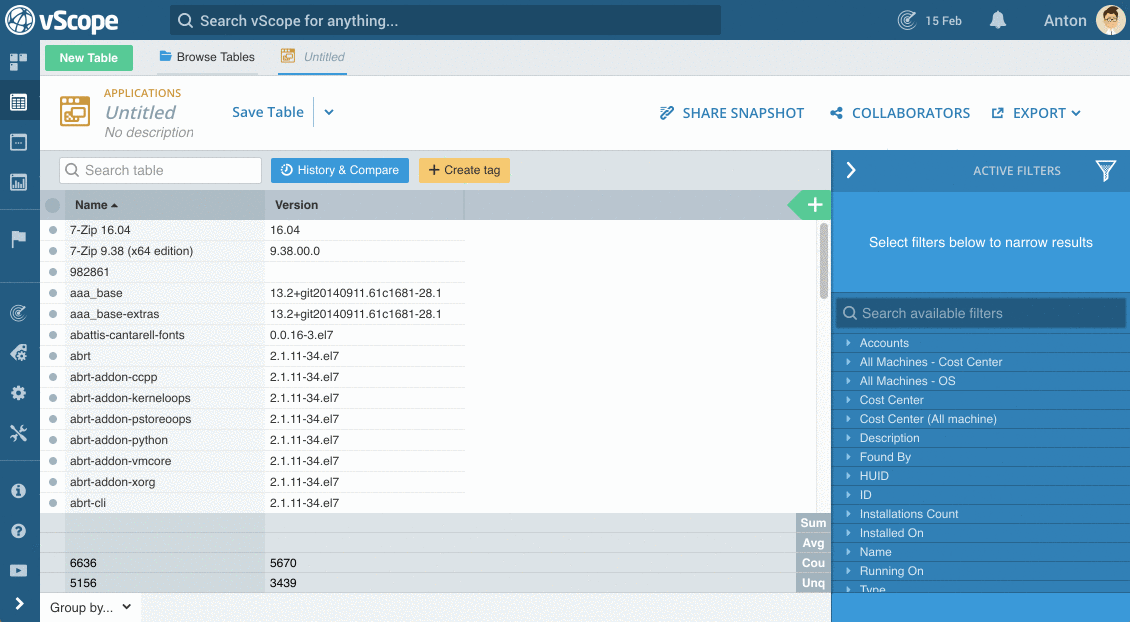 (Notice that the same method is used for Operating systems!)
Improvements
Overall
Added Domain admin (true/false) as a property to the User Properties page
We have started adding some valuable/educational links in vScope to help you get started
UI/UX
Tags
Client/Server
Files Cannot Grow tag has been renamed to Files Reached Max Size
Tracker cases
Client/Server
New Tracker cases related to Linux added, including:

Pending Updates
Pending Security Updates
System Restart Required

New Tracker cases related to Files Reached Max Size
Last Windows Patch is older than 30 days
Probes
Improved stability in the Docker probe
Improved WinRM probe making it more stable
Various bug fixes
Fix for duplicate instanceIDs from MS SQL
Fix for "Unknown host exception" (HTTP)
Fixes in the VMware probe related to missing VMs
Fix for reusing WMI credential for LDAP does not copy all relevant values