PRODUCT UPDATE
Introducing IP Insight – the ultimate tool for documenting IP addresses
As a part of vScope's IT inventory platform, IP insight provides you with a comprehensive overview of all IP addresses discovered by vScope. With IP Insight, you can easily document and organize your IP addresses, saving you valuable time and resources. IP Insight will be rolled out during the upcoming month.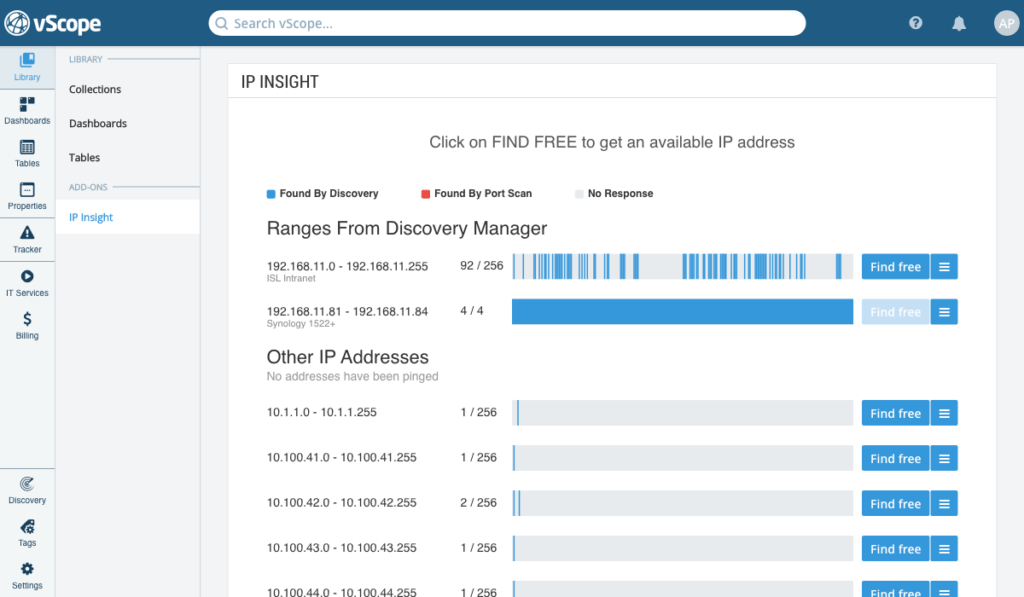 IP Insight until today, has only been included in vScope Network Module. It was a highly appreciated tool and loved by our users since it gave them an easy way to visualize IP addresses discovered by vScope. For the upcoming month, we will roll out IP Insight to any vScope that has licensed the IP Address asset type (ie. Certificate, Client, Cloud, Database, Printer, Server, Storage, Virtualization).
Accessing IP Insight, and a brief overview
Notice 👉 You need to be an Administrator, Contributor, or User to access IP Insight
IP Insight can easily be accessed under Library > Add-Ons. The UI is divided into two parts.
Top part: IPs in discovered ranges

The top part is visualizing IP addresses that are in a range discovered by vScope. In this view, you can find out how crowded your ranges are, or understand how you Discovery can improve finding identifying IPs only found by port scan. Please notice that you can hover over IP Addresses to learn more about what device is attached to the IP.
Bottom part: IPs in non-discovered ranges

The bottom part shows IPs discovered by vScope that are in a range not discovered by vScope. This helps you identify IP addresses that might be incorrectly configured, which can lead to potential security risks or operational issues. Very neat!
Additional features: tagging and increased discovery scope
With IP Insight you can short-cut to other features in vScope. Such as:
Managing targets in Discovery Manager
Adding a rule-based tag based on the IP scope.
Click on any IP Address to drill down and understand related assets to your IP Addresses.
Find free IP by clicking "Find Free"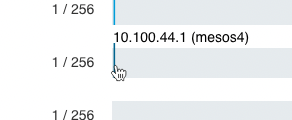 Feel free to get in touch if you need help to get started!