BEGINNER'S GUIDE: PART 1 OF 9
Inside vScope
Let's get familiar with the different parts of vScope and how they can help you in your role.
Discover your IT with Search
With vScope Search you can easily browse and explore your IT environment with the functionality of a search engine. Search for components, reports, alerts and dashboards.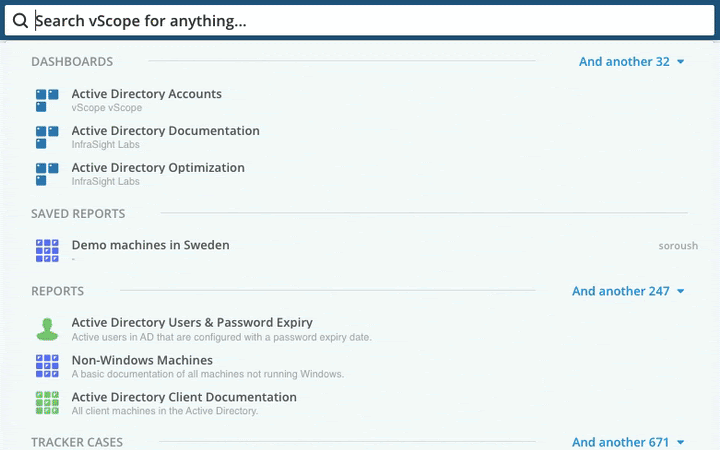 Quick & simple insights with Dashboards
With dashboards you get a birds-eye view of your IT. The most important insights and KPIs of your choice are shown in a simple widget format for quick consumption.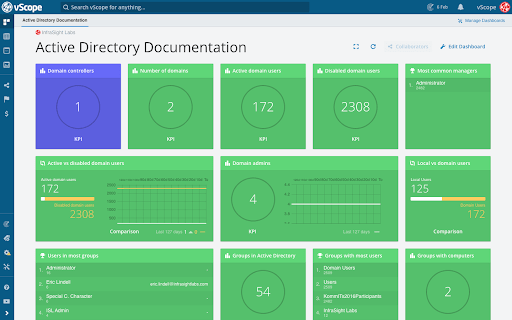 In Table Explorer you can build reports without using any scripts. With just a few clicks you can create patch reports, license audits, confirm SLAs or create documentation over your user accounts.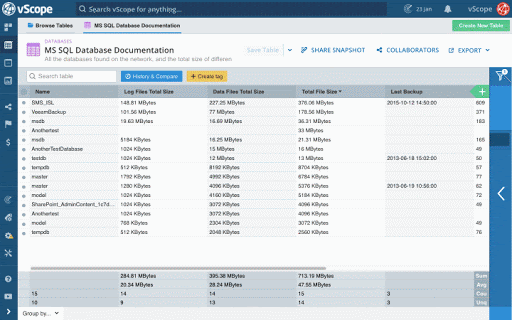 Smart analysis in Tracker
vScope Tracker constantly conducts analyses of your entire IT environment in the background in order to provide you with a list of potential issues and improvements. Utilize the ready-to-go content and start cleaning up at once, or perhaps create your own set of analyses that hold down the fort when you are away.

Find the reports built for you!
Click on the links in the titles to learn more about the different parts of vScope or move on to the next part of this guide and learn more about searching in vScope.