COMBINE DATA FROM MULTIPLE PLATFORMS





Say Goodbye to Manual Spreadsheets
Countless organizations depend on real-time monitoring, scripts, and unwieldy spreadsheets for their server data management. This fragmented process entraps critical information, often with just a few individuals in the know, making it tough for those who need it most to access it. Let us introduce vScope, a leading IT inventory software reshaping collaboration within IT for the future!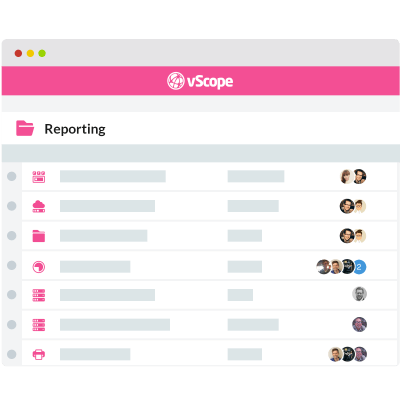 BENEFITS
Increased Transparency
Gain easy access to accurate server information, eliminating the need to depend on a select few for vital data. vScope Server promotes transparency throughout your organization.
Boosted Productivity
Democratize server knowledge across your team, enabling individuals to access the data they require when they need it. This fosters productivity and streamlines workflows.
Contextual Server Information
Merge server details with data from other resources, such as services and databases, to create customized reports tailored to your specific needs.
USE CASE
A Versatile Platform
Comprehensive Reporting
vScope Server provides all the information you need to create reports on a wide range of topics, including patch management, SLA compliance, application documentation, licensing audits, and more.
Access to Historical Data
Compare configuration changes over time to spot anomalies, generate follow-up reports, or simply stay informed about your IT environment's evolution.
Bundled Analysis for a Smooth Start
If you're new to vScope, there's no need to worry. Our platform offers built-in analysis for GDPR compliance, capacity planning, security assessment, and patch management. This makes your initial experience with vScope Server user-friendly and productive.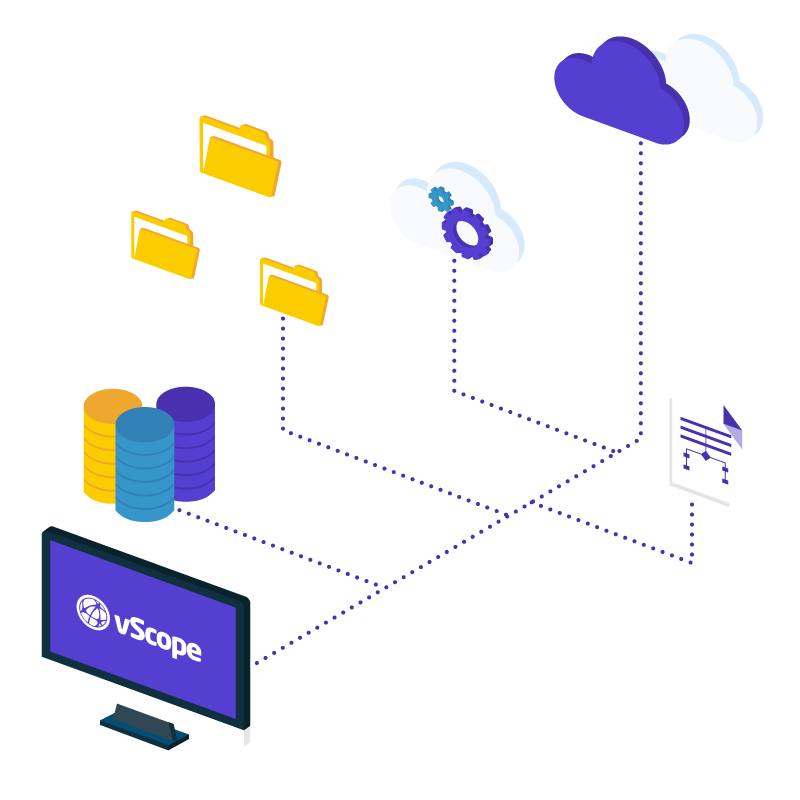 Key Features
vScope Server enables a variety of use cases for IT organizations.
Automatic application inventory

Prepare for the Microsoft audit with bundled reports

Supports Windows, Linux, MacOS and Unix

Spectre/Meltdown analysis for both Windows and Linux servers
Documentation of all local domain administrators

Security audits of eg. firewall settings, RDP configurations and vulnerable applications

Permission settings on all file shares

Identify servers missing installed antivirus

GDPR reports about best practices of server configurations
SCCM
WMI (Windows OS)
WinRM (Windows OS)
SSH (Linux, Unix, MacOS)
Applied Group Policies
Active local user accounts
DNS settings
Group settings
Installed Applications
Last Patch Date
Operating System
Port configurations
OS Speculative Execution Mitigations Enabled
And 100+ more
DNS consistency
File systems estimated full
Group policy version has changed
Last patch date older than 30 days
Low file system usage
Machines with localhost as DNS-server
OS Last Shutdown was unexpected
Windows Update detection error
And 50+ more
Subscribe to our Newsletter
Let us keep you posted on product updates, news, and market insights that help you build a more productive organization.