Microsoft SQL Licensing Guide
Making sure that your Microsoft SQL servers are properly licensed can be a major headache for most companies and operation managers. This guide will give you a brief overview of the different options available in regards to Microsoft SQL licensing for servers before you approach a Microsoft partner. Let's start off by getting acquainted with the two licensing models that Microsoft offers.
PUBLISHED 5 JULY 2019
SOROUSH POURHADI
Helping you make the most out of vScope
The SQL Licensing Models
Core-based
Under the Per Core licensing model, each server that runs SQL server software in a physical operating system environment (OSE) must have a core license for every core in the processor. The same logic is applied to the virtual cores in a virtual environment.
Server + CAL based
Under the Server+CAL licensing model (CAL standing for Client Access License), each OSE, running a SQL Server software or any of its components must have a SQL Server license assigned to the physical server hosting the OSE. Furthermore each device and/or user accessing the SQL server or any of its components need a CAL.
Choosing a SQL licensing model: Per Core or Server + CAL?
Deciding on a licensing model can be a difficult task as both options have their own set of benefits. Core-based licensing is usually the only choice when SQL servers are being accessed externally (outside the company network). That's because the Server + CAL model would require your organization to purchase a user/device CAL for every external user/device accessing the SQL server. This is essentially an almost impossible task to keep track of.
Moreover, core-based licensing is usually better for large companies as it is easier to manage. Imagine a large global organization with users and devices across the world. They might have a hard time tracking the number of CALs needed for their SQL servers. Plus, keep in mind that the number of employees and SQL servers usually don't grow in a linear fashion. Therefore core-based licensing is generally cheaper for large organizations.
In comparison, the Server + CAL model might feel a bit complex, but it's easy to manage for smaller organizations. Furthermore, Server + CAL licensing usally ends up being substantially cheaper for smaller organizations.
That's a lot to keep in mind when taking a decision, but don't worry, I've got just what you need! Just follow the decision tree below and see where you end up, simple as that!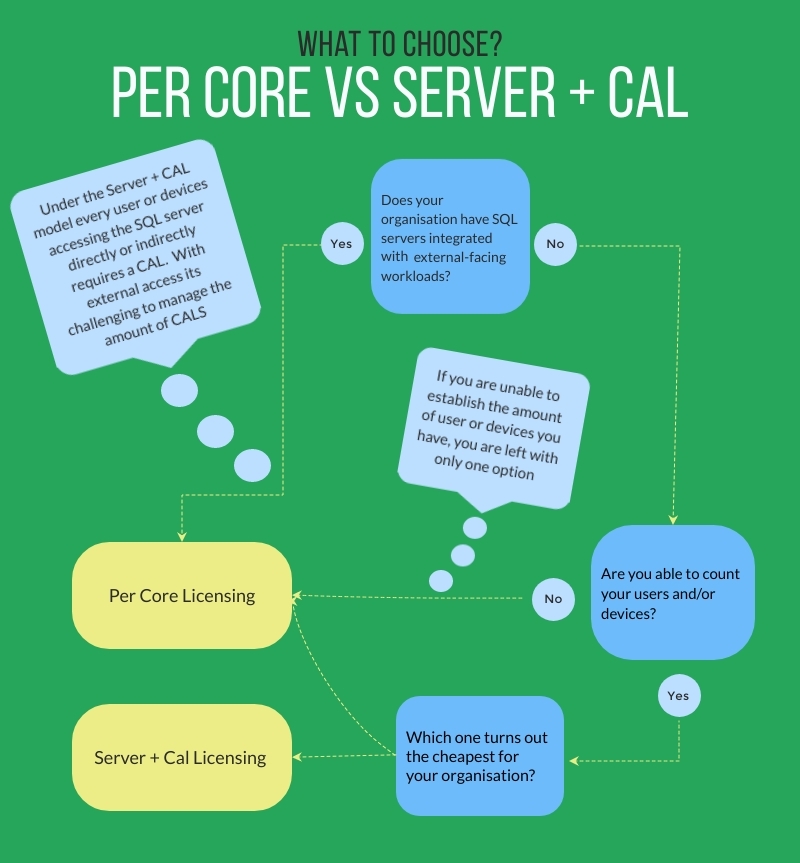 Note that there are exceptions and that complex licensing scenarios may arise. For more detailed information about the licensing models, read more over at Microsoft's SQL Server Licensing Guide (2017) or contact an official Microsoft partner.
But heres the best part:
The power of vScope and the free licensing packs can make licensing tasks easier than ever before! For those with the core-based model, figuring out the number of cores that are running MS SQL software can be a hard task, especially for newcomers! But with an automatic inventorying tool, such as vScope, that's not something you need to worry about.
With vScope you just need to open up the "MS SQL Core Documentation for Machines" report that's included in every vScope installation. Not only will it show you all the machines with MS SQL software, but you can instantly see their CPU cores. You can find this report in vScope by either searching the Omnisearch: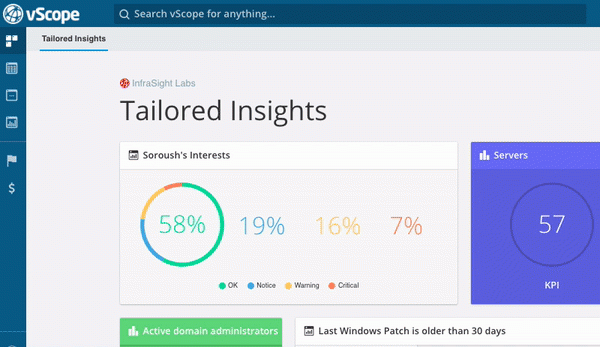 or by browsing reports in Table Explorer under the section Licensing: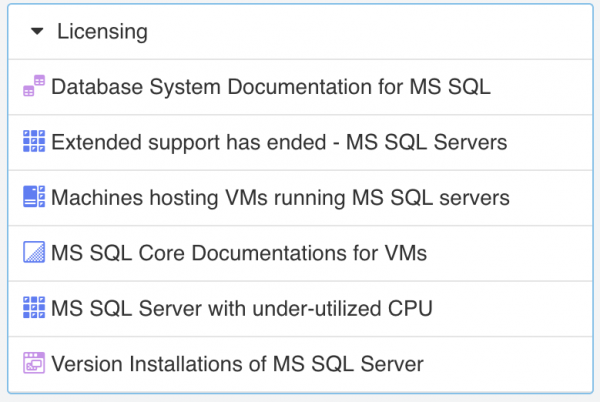 But all of my "Server + CAL" users don't worry, vScope has something for you as well! Even though some form of manual documentation over users/devices is required to maintain compliance under the Server + CAL model, vScope can remove a bunch of tasks from your table. The reports offered in the MS SQL Licensing pack quickly gives you all the information about your database systems.
Minimize your reliance on others with vScope's report packs.
Microsoft Server SQL Editions and Features
Now that we've covered the licensing models we need to talk about the different editions. Microsoft SQL servers are primarily offered in two editions, Standard and Enterprise. You can observe and compare all the differences between editions in Microsoft's SQL Server Guide. But generally speaking, the Enterprise edition offers several advanced functions not included in the Standard edition, such as Advanced Data Encryption. In addition to these functions, the Enterprise edition allows an unlimited amount of cores to be utilized without a cost penalty. So when choosing an edition, you should once again take a look at your organization's needs and requirements.
Microsoft also offers an Express and Developer editions. In comparison to the Standard edition, the Express edition is free but offers a very limited experience. Then we have the Developer edition that allows one to build, test, and demonstrate applications in a non-production environment. But be careful, you're at risk of receiving serious fines if it is used in a production environment.
When it comes to editions a common problem is documenting which editions one has and where they are installed. But once again our fantastic MS SQL Licensing pack comes into play, with the "Version Installations of MS SQL Server" report that's included, you can easily check what editions and version of Microsoft SQL servers you have installed as well as their occurrence and location.
Keep in mind that…
2-packs
Core licenses are sold in 2-packs, with a minimum requirement of (4) core licenses per processor or per VM. In other words, if you have an SQL server running on 2 cores you have the option of adding 2 additional cores without a cost penalty. The "MS SQL Server with under-utilized CPU" report in vScope lists all the servers in your environment that this applies to.
Software Assurance
Organizations with highly virtualized environments might benefit from using the Enterprise editions with Software Assurance. Which gives you the right to run unlimited VMs on physical machines that have all their cores licensed. Furthermore, it also gives you upgrade rights to future SQL versions released during your agreement. Read more about Software Assurance and its additional benefits and features on Microsoft's Licensing Page.
Mixing CALs
Under the Server + CAL model, you have the option to license all your devices or users but there is also the option of mixing device & user CALs. However, its generally not recommended to mix CAL types as this raises the complexity of the issue at hand.
Virtualization + MS SQL Licensing is a mess
Microsoft loves their money, and the latest trend of moving databases to virtual environments is hurting their bottom line. Therefore they've implemented a bunch of exceptions for virtual environments. If you're running your databases in a virtual environment it's best to tread carefully. Above all, make sure that you have a clear understanding of the relationships between your hosts, VMs, and the MS SQL software they are running……. or just use vScope and the advanced functions offered for free in the MS SQL licensing pack!
Summary
Hopefully you feel a little bit more confident when it comes to MS SQL licensing after reading our guide, if you have any further question about our report packs or vScope in general just ask away in the chat to the right or send an email to info@infrasightlabs.com.
Share This Article!
Insights about your MS SQL assets right away