Everything you need to know about IT asset management
You've spent a lot of time and money on technology for your organization, but are you getting the most out of your IT investments? Collecting inventory data and tracking contract statuses throughout the lifecycle of an asset is critical. Capturing your asset data in one location enables better IT asset management and tracking of hardware, software, licenses, ticket history, and even non-IT assets.
What is an IT asset?
In order to understand ITAM, we need to understand what an IT asset is. The definition and details may vary slightly depending on who you ask, but here we divide IT assets into 3 categories:
Hardware assets

Hardware assets consist of all physical hardware in the organization such as servers, clients, printers, network components such as switches, routers and much more. The subset of ITAM that deals with the management of hardware assets from the procurement stage to the retirement of the asset is referred to as Hardware Asset Management (HAM).

Software assets

Software assets can be both traditional on-preem software or cloud-based services and solutions (SaaS). The subset of ITAM that deals with the management of all software assets is referred to as Software Asset Management (SAM). Some definitions of asset management divide on-preem software and cloud solutions and services into two different sub categories for more clarity.

Intangible assets 

Certain intangible IT assets and processes that are deemed important can also be defined and managed within the realm of ITAM. User accounts, backup jobs, server clusters are all assets that cannot be categorized as software or hardware assets but are still important to document and manage.
What is IT Asset Management (ITAM)?
IT asset management (ITAM) is a framework involving a set of business processes and practices that are directly tied to an organization's IT infrastructure and assets. Some mistake ITAM as simply the process of cataloging, tracking and maintaining the IT assets of an organization. However, ITAM combines financial, inventory, contractual and risk management responsibilities to create a more holistic approach to the management of IT assets throughout their lifespan.
IT asset management is generally a part of IT Service Management (ITSM) which includes all activities related to designing, planning, creating, deploying and managing IT services.
ITAM fundamentals and key process areas
The International Association of Information Technology Asset Managers (IAITAM) is an organization that offers documentation on ITAM to help guide organizations through the process of asset management, see the 12 key process areas below.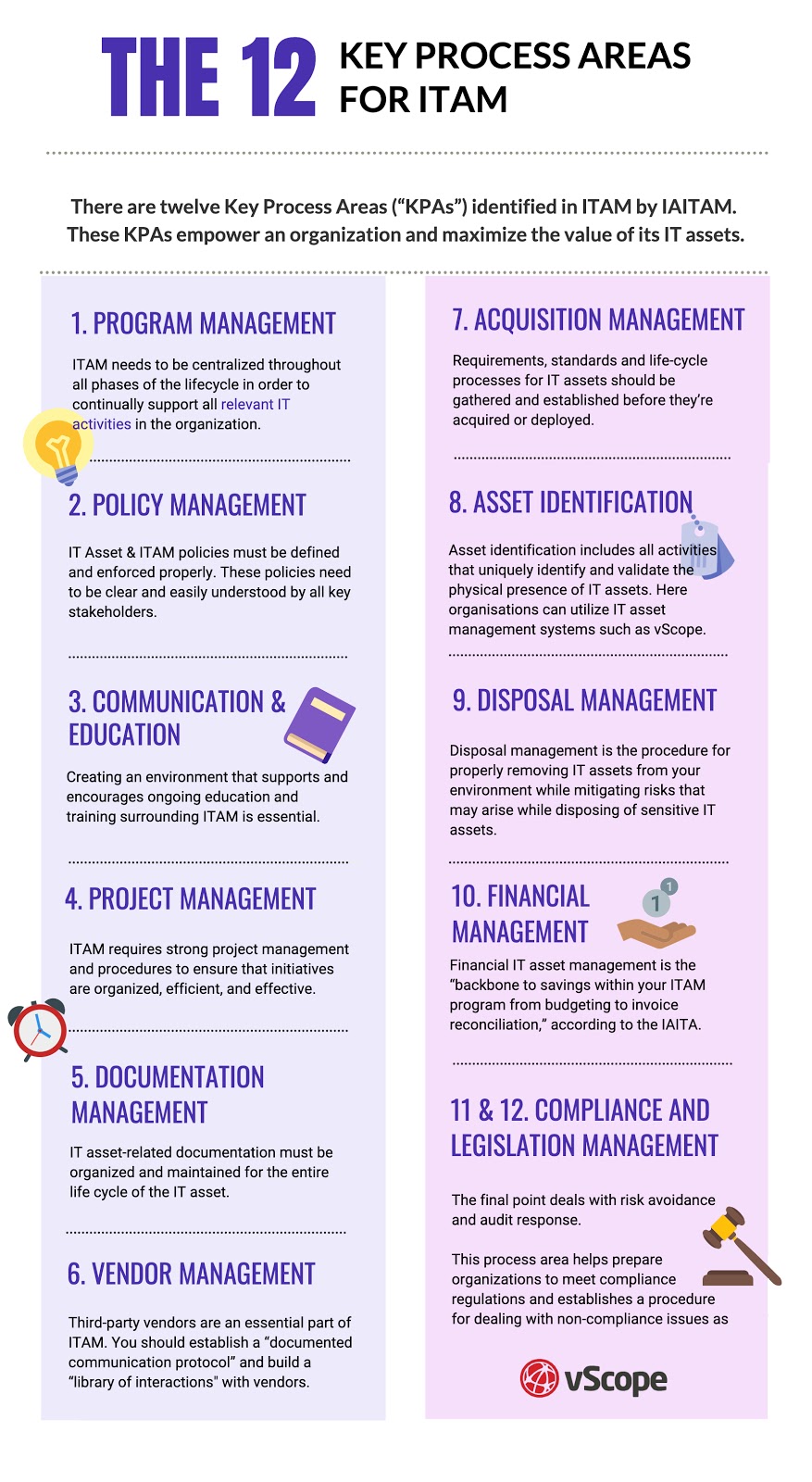 What are the benefits of ITAM?
The IT asset management framework allows organizations to gain control over their complex IT infrastructures. When executed properly, ITAM can generate large returns on investment. ITAM can help organisations reduce their costs by:
Reducing security risks, loopholes and vulnerabilities connected to software and hardware assets.

Simplifying the enforcement of industry requirements and regulations.

Improving efficiency and productivity.

Decreasing costs related to licensing.

Enabling business to save costs through the removal of underutilized assets.
What should you expect from an ITAM solution?
In order to achieve the aforementioned benefits you might need some help along the way. There are countless vendors that offer solutions that can make ITAM a bit more manageable. ITAM software allows you to align your hardware and software inventory, asset owners, assignments and location information in one place. However, ITAM covers a lot of different aspects. That's why organizations need to understand their needs and challenges before opting for a solution. Below are some of the most common types of ITAM solutions:
Inventory management 

Helps you manage, track and document your physical IT assets such as servers, clients throughout their lifecycle. Traditionally these are the most common ITAM solutions. 

Examples: AssetCloud, Asset Panda, Sensolus, vScope

All-in-one solutions 

There are also solutions that combine several aspects of ITAM in one. These solutions should provide insights into which assets you have and what they are used fo. These solutions can also provide you with other insights connected to the usage and lifecycle of your IT assets. Furthermore, an all in one solution should support both hardware and software assets so that you can get a comprehensive overview of your IT assets.

Examples: vScope, ManageEngine AssetExplorer, ServiceNow, SysAid, Device42.
The pricing for different ITAM solutions depends heavily on the range of features offered and the licensing model used. ITAM solutions are usually offered through one of three licensing models listed below.
Tired model

A lot of vendors understand that needs vary between organizations. That's why a lot of vendors offer different packages depending on the range of features an organization needs. Therefore prices can range from as little as $25/month up to $3000/month according to Gartner.

Pay-per-asset

These types of solutions charge you depending on the number of assets you want to document or manage. What counts as an asset may vary from one solution to another. Some solutions may only charge network devices with an IP address while others might charge for assets like licenses and databases etc. According to Gartner prices can vary between $69 – $2,490 depending on the number of assets.

Pay-per-user 

The cost is dependent on the number of users that will be using the software after it has been purchased. The more users, the higher the price, however there are often discounts available for enterprises that may have a very large number of employees. Gartner estimates that prices for these solutions can range from $9 – $99 per user/month. 
Curious to learn more about ITAM?
We hope that this article has provided you with everything you want to know about ITAM. If you are interested in learning more about a comprehensive, all-in one ITAM solution that inventories your IT assets and lets you create valuable reports and tables all in one place, check out vScope. You can read more about our inventory and reporting solution here or contact us directly for a demo of our product.