Why You Should Document Your IT Services in vScope
As a service manager, how do you document your service delivery? Is your organization manually maintaining service related documents in Sharepoint or internal wikis? How do you ensure that the documentation is standardized, up-to-date and without inaccurate data?
Non-existing IT service documentation
Organizations often lack an understanding of how their business services are truly delivered. Relationships and dependencies between IT services and their technical components are rarely documented, mapped or understood.
This lack of knowledge makes it time consuming for IT teams to diagnose and resolve service related issues. For IT managers, the lack of documentation makes prioritization of important IT infrastructure decisions harder as business impact cannot be properly measured. But there is a solution!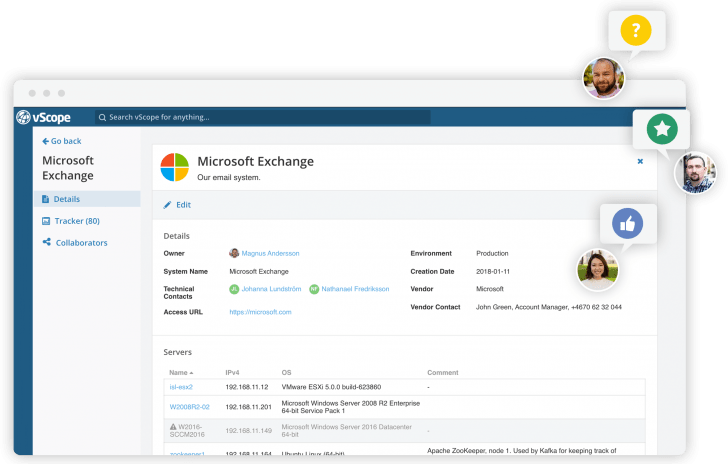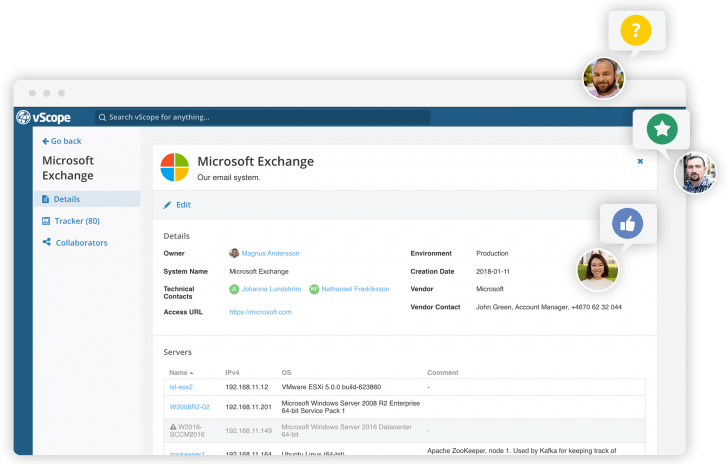 Inventory based service documentation
Introducing vScope Service Mapping, a product designed to help service managers and service owners in their roles. You can now utilize the inventory in vScope to document your services, see how it works .
With an inventory based service documentation, your organization will benefit from always having the latest information about servers, patches, applications, updates, access and much more, all in one place. Centralizing your service documentation means that information can be easily found and accessed when needed.
By freeing up time like this, your team can focus on the things that actually produce value for your organization. But most importantly IT managers can finally gain the insights they need to make well-informed decisions.

Relevant information
A service catalogue that automatically gets updated on a daily basis.

Customizable Templates
Use service templates based on industry standards or customize layouts to fit the needs of your organization.

Analysis & Suggestions
Make use of analysis to help prioritize fixes, improvements and optimizations of your service delivery.
PUBLISHED 31 OCTOBER 2019
SOROUSH POURHADI
Helping you make the most out of vScope
vScope Service Mapping in action
Check out the video below to see how to use vScope Service Mapping to document a service without any effort.