Price out your IT
A tool to set a price list for your IT, convert services to billable rates, and gain an oversight of your costs.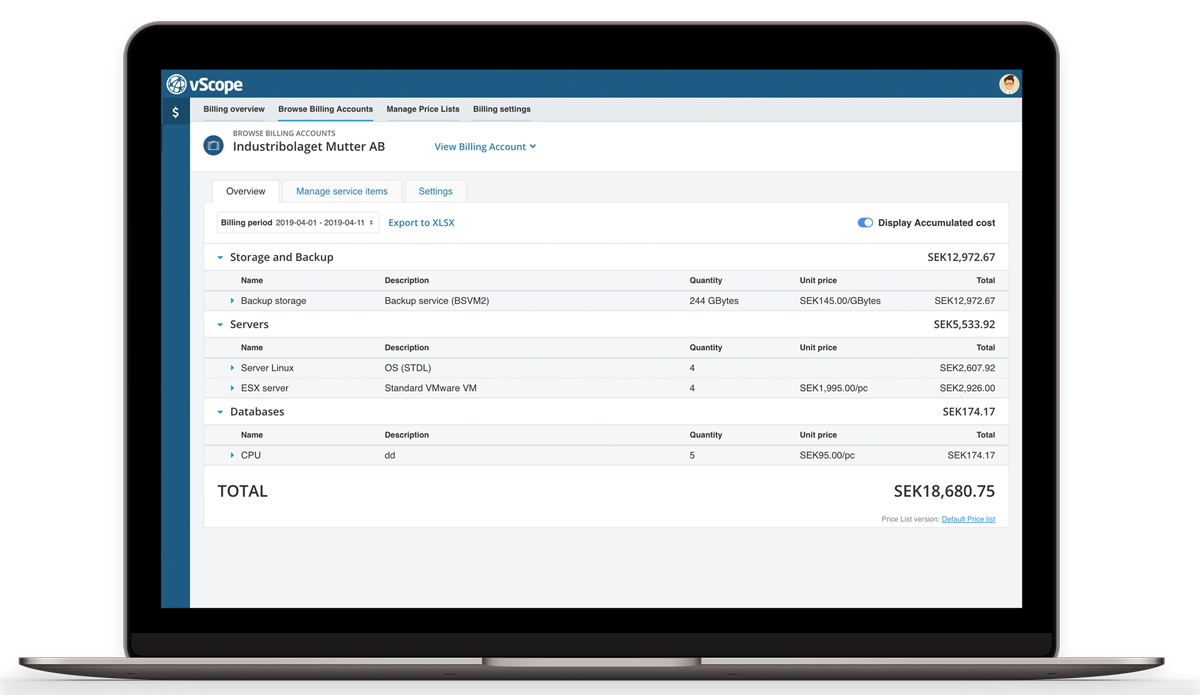 Get paid for your IT
Supporting documents automatically generated, every day.
Built-in price lists
Use bundled price lists or customize your own.
Price value-added-services
Bill for services, support, consultancy hours, and more.
Package pricing
Create package-based pricing, e.g., Gold, Silver and Bronze.
Estimate & evaluate
Full traceability allows you to view billing history and forecast.
Include vScope in your workflow
With vScope Billing & Chargeback you can create an optimal workflow and improve billing processes.
Why vScope Billing & Chargeback?

Always relevant
Billing details are automatically updated on a daily basis.

Accessible
Simplify for non-technical roles to access billing details.

Comprehensive
Collect technical information from several data sources.

It's in the details
Zoom in on a component level to understand underlying cost drivers.
Frequently Asked Questions
Can I have several price lists?
Yes! You can either use one universal price list or you can create dedicated lists for every account you charge. You can even create different versions of a price list to account for future price changes.
What can I charge for with vScope?
Pretty much everything! Number of servers, displays, laptops, support tickets, computer size, back-up and RAM, type of operating system, type of customer, and SLAs. You may choose if you want base your pricing on inventoried data or manually from user-submitted data.
Can I export the data?
Yes! You can choose to give the customer a limited view, export it to an excel file, or integrate it to vScope Billing via an API.