PRODUCT UPDATE
Reclassification of asset types that might affect license limits
PUBLISHED JANUARY 21, 2022
Search for any computer, view computers from Active Directory in Properties, and easily find deviations between various data sources. Many valuable improvements are on the way when the asset type "Directory Machines" is about to be removed from vScope. As a first step, "Directory Machines" are reclassified as "All Machines". This is a major improvement for data quality and usability, but it may also affect your current licensing.
What's going on?
The asset type "Directory Machines" is being deprecated. From now on, any computer object is classified as "All Machines" in vScope. A reclassification is made to create a more general structure while increasing data quality and improving performance.

How the reclassification may affect your vScope
Previously, computers classified as "Directory Machines" were not searchable and co-existed in parallel with other computers in vScope, but with limited functionality. Hence, "Directory Machines" could not be viewed in a unified view with other machines. "Directory Machines" did not count towards any billable unit metric.
This behavior has now been changed so that any computer from the data sources Active Directory and SCCM is treated like any other computer asset in vScope. As a result, any computer, no matter the data source, will be shown as "All Machines" in modules Server and/or Client and counted as billable units. "Directory Machines" will be deprecated in the future but is still available
If you are only subscribed to vScope Directory, you will no longer not find any computer from Active Directory in vScope.

What are the benefits?
The benefits are immediate: Search for any computer in vScope, document more assets in Properties, add tags to any computer found in Active Directory, or find missing computers and deviations between data sources, eg. Azure and Active Directory.
When is the reclassification applied?
This reclassification has been applied from version 3.19, released in February 2022. There will be a slow transition to full reclassification, meaning that "Directory Machines" will live alongside "All Machines" for the near future. No saved content regarding "Directory Machines" (eg. tables, tags, dashboards) is being changed or removed.
How do you know whether you're affected or not?
The reclassification affects any customer that…
….inventories computer assets ("ComputerObjects") from Active Directory.
…are subscribed to vScope Server, Client, and/or Directory. Find your license configuration at account.vscope.net under Settings > License
Do you need to take action?
Once updated to the latest version of vScope, inventory of computers from Active Directory has been disabled. If you want to find computers from Active Directory you have to re-enable this in Discovery Manager > Credentials > Advanced, and Toggle off 'Ignore Clients/Server'. You may customize the inventory even further by choosing to eg. include or exclude machines without an operating system.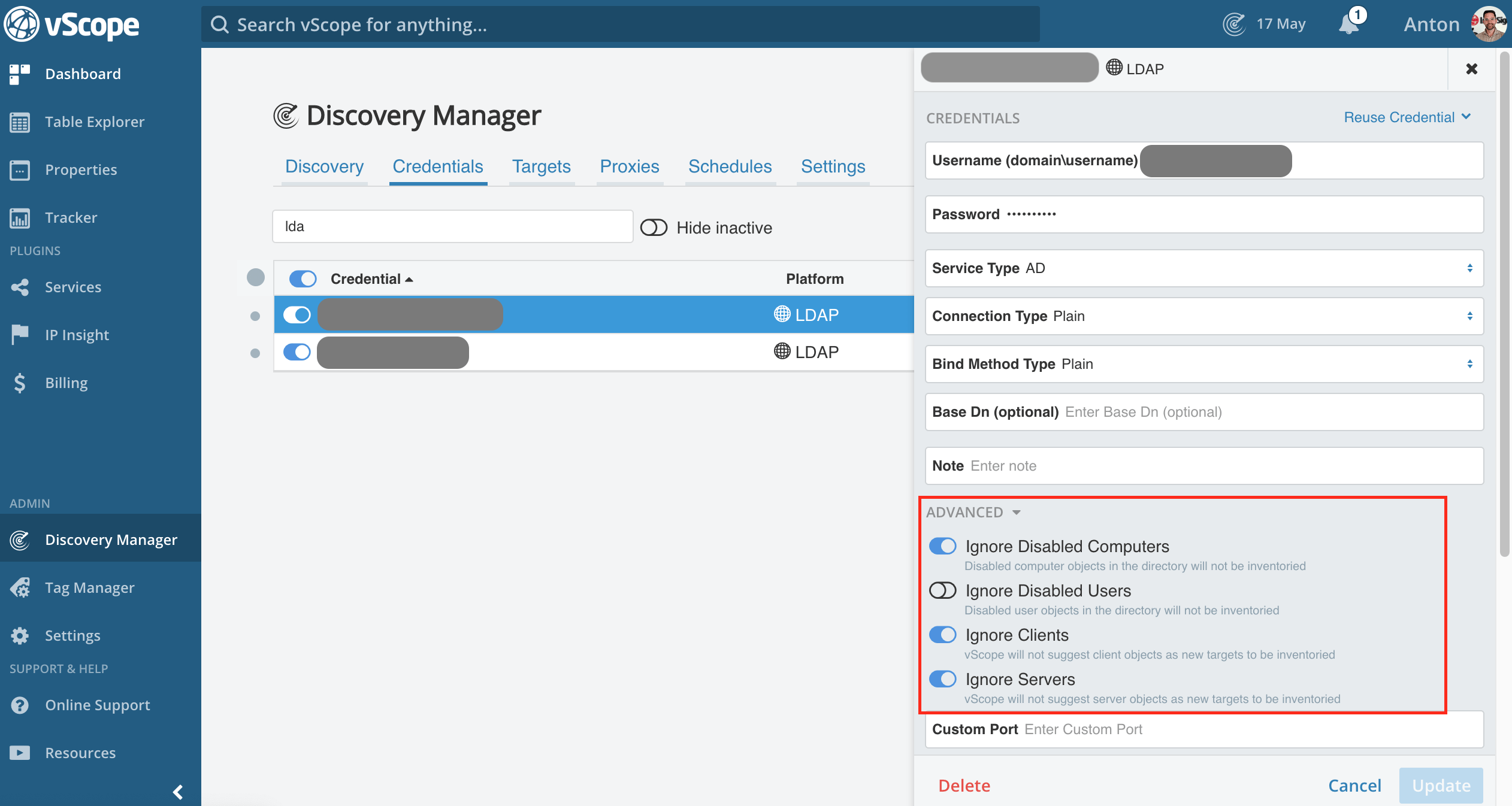 Following the next Discovery, computers from Active Directory will be classified as "All Machines" and counted as a billable unit for Server and Client. This will result in one of the two following cases:
A) Your license limits are not exceeded you don't have to take any action. Ensure that your tables and dashboards contain what's expected. Maybe you need to update filters to include/exclude computers found in Active Directory?
B) Your license limits are exceeded you have the following options:
Upgrade to correct license limits.
Ignore inventory of server/clients from Active Directory in Discovery Manager to lower your billable unit count.
What happens with content built on "Directory Machines"?
Initially, no content is removed with the reclassification. If you want to use "All Machines" instead (which is preferable since it comprises any machine discovered by vScope) you will need to build new tables, dashboards, and widgets. However, there is no need to rush. If you are happy with your content, keep it. Content based on "Directory Machines" will eventually be deprecated. Therefore, advise you to start using "All Machines" for any new content.
Can I still use "Directory Machines" for tables and dashboards?
Yes, if you have licensed Server and Client module you can continue to use "Directory Machines" for new content. However, "Directory Machines" will be deprecated, hence we advise you to use "All Machines" instead.
Are you not seeing "Directory Machines" in vScope?
This is because you are not subscribed to Server or Client. Please contact customersuccess@infrasightlabs.com.
Contact us to learn more
Contact customersuccess@infrasightlabs.com for a personal guidance on how you are affected and help to configure this .
About vScope
vScope is fast and easy IT reporting, helping companies improve collaborations, innovation, and operational efficiency. Based on industry-leading IT inventory, vScope keeps your reports and documentation updated, so that people in your organization always can access relevant insights about IT.